Ho Chi Minh City University of Technology (HUTECH), formerly known as Ho Chi Minh City University of Engineering and Technology, was established on April 26, 1995 according to Decision No. 235/QD-TTg of the Prime Minister and later went into operation under Decision No. 2128/QD-GDDT of the Minister of Education and Training.
Over the past 26 years, HUTECH has experienced exceptional growth and development that is evident in the expansion of its modern campus facilities including four different campuses located in Ho Chi Minh City. These facilities are designed and constructed according to the latest international standards with over 100,000 m2 in total floor space. They are part of the overall HUTECH campus experience that offers students a unique, dynamic, and enjoyable college learning environment.
Main Campus: 475A Dien Bien Phu, Ward 25, Binh Thanh District, Ho Chi Minh City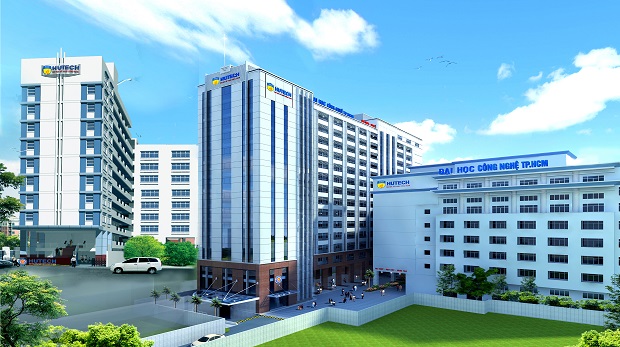 Main Campus 475A Dien Bien Phu
Ung Van Khiem Campus: 31/36 Ung Van Khiem, Ward 25, Binh Thanh District, Ho Chi Minh City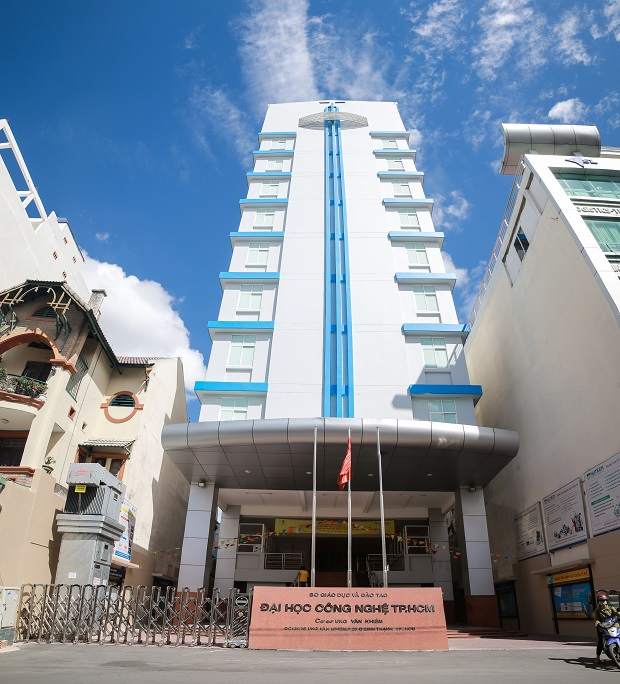 Ung Van Khiem Campus
HUTECH Manpower Training Center: Saigon Hi-tech Park (SHTP), Hanoi Highway, Hiep Phu Ward, Thu Duc City, Ho Chi Minh City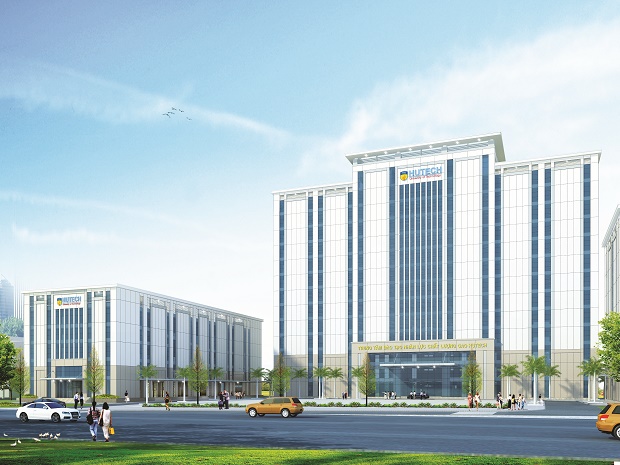 HUTECH Manpower Training Center
HUTECH Hi-tech Institute: Saigon Hi-tech Park (SHTP), Long Thanh My Ward, Thu Duc City, Ho Chi Minh City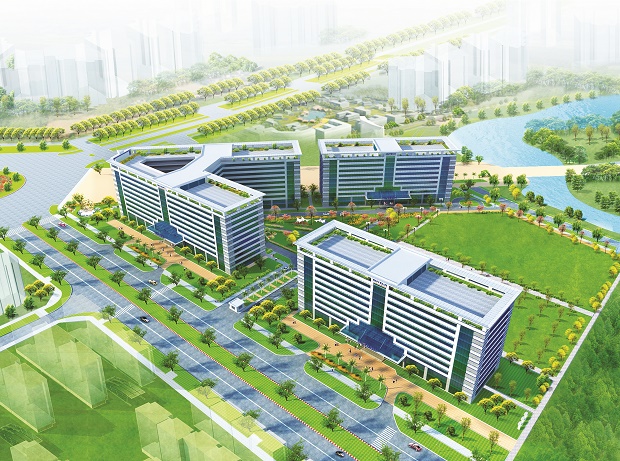 HUTECH Hi-tech Institute
Adhering to the institution's guiding principles of "Knowledge - Morality - Creativity", HUTECH embodies the following educational philosophy, "Learn to learn, learn to do, learn to create, learn to live together and learn to be independent." These also form the core values based on which HUTECH continues to thrive and establish its position as the leading university in the Vietnamese education system. HUTECH is committed to providing a well-rounded learning experience by equipping students with comprehensive knowledge, professional training, and practical skills. These qualities enable HUTECH students to become dynamic, courageous, and confident members of the global community while also being capable to perform and excel in diverse, multi-sector, multi-cultural work environments.

Over the years, HUTECH has always been a popular destination for prospective students seeking to enroll in bachelor's, master's, or doctoral programs. HUTECH offers more than 60 different undergraduate majors in multiple disciplines including Engineering and Technology, Economic and Management, Architecture and Arts, Health Sciences, Law, Social Sciences and Humanities, Foreign Languages, Culture and Arts. At the graduate level, HUTECH currently has 13 master's degree programs in the following fields of Engineering, Economics, Tourism, Foreign Languages and Law. The two Ph.D. programs available at HUTECH are Electrical Engineering and Business Management.

Academic units:
Faculty of Pharmacy

Faculty of Nursing and Medical Laboratory

Faculty of Information Technology

Faculty of Civil Engineering

Faculty of Communication and Design

Faculty of Architecture and Arts

Faculty of Business Administration

Faculty of Tourism and Hospitality Management

Faculty of Finance and Commerce

Faculty of Law

Faculty of English Language

Faculty of Japanese Studies

Faculty of Chinese Studies

Faculty of Korean Studies

Faculty of Management Information System

Institute of Social Sciences and Humanities

Faculty of Animal Sciences and Veterinary Medicine

HUTECH Institute of Engineering

HUTECH Institute of Applied Sciences

Institute of Music and Arts

HUTECH Institute of International Education

Vietnam - Japan Institute of Technology

Vietnam - Korea Institute of Technology

Institute of Postgraduate Studies

CIRTECH Institute

Center for Distance Education

Center for Informatics - Foreign Languages-Skills

HUTECH Center for Japanese Language

Center for Physical Education

Center for Politics and National Defense Education

Royal Language Academy

Faculty of Marketing and International Business
Besides, HUTECH students also have the choice of enrolling in one of our Exchange Programs, International Bachelor's and Master's degree programs in collaboration with several prestigious foreign university partners, including Lincoln University (USA), Open University of Malaysia (Malaysia), CY Cergy Paris University (France), VIA University College - TEKO (Denmark), National University of Malaysia, Bangkok University (Thailand), etc. With the aim of internationalization, this is among several strategic initiatives to move the institution closer to the standards of the regional and international education systems.

HUTECH's academic faculties include highly ranked professors and lecturers with notable achievements in both teaching and research. The group of managers, employees, and other university personnel make up of highly qualified and capable individuals that are recognized for their professionalism, excellent work performance, and dedication to the students. Currently, there are 1708 full-time lecturers including 16 professors, 36 associate professors, 229 Ph.D. degree holders, and 1185 master's degree holders and 375 staffs with Colleges and Universities degrees. To ensure effective management and delivery of the highest education quality, HUTECH is among the first higher education institutions in Vietnam to adopt and implement ISO 9001:2015 standard for quality management.

Over more than 26 years of establishment and development, HUTECH has been recognized for its outstanding contributions toward building and improving the country's education and training system. HUTECH has received several recognitions from the state and local government including the Government of Vietnam, Ministry of Education and Training, and Ho Chi Minh City People's Committee. Among these include a First-class Labor Order, a Second-Class Labor Order and three Third-class Labor Order conferred by the President of Vietnam.

In November 2018, HUTECH became the first university in Vietnam to obtain institutional education quality accreditation according to the new set of assessment criteria issued by the Ministry of Education and Training. These criteria are developed based on the total quality management principles that have been verified by actual application within the network of higher education institutions in Southeast Asia and align with the trend of international integration.

Having reached significant milestones in the area of education management, training, and scientific research, these accomplishments are testimonies for the commendable journey of HUTECH in affirming its leading position in the Vietnamese education system and taking an integrated approach to the internationalization of its education and training.
MISSION
HUTECH pledges to be the pioneer in providing a highly-skilled and well-rounded workforce for the knowledge economy in the new era. Equipping the next generation of Vietnamese youth with specialized subject knowledge and scientific understanding along with professional and practical skills that enable them to work creatively, independently, and adapt well to a diverse set of work environments. Fostering opportunities for students to succeed in their chosen careers, contribute to social and economic development, and confidently integrate themselves into the global community.
VISION
To become a modern hub for knowledge and culture centering around building a creative, dynamic, and professional higher education learning environment and uphold the tradition of training a highly-skilled workforce according to the guiding principles of "Knowledge - Morality - Creativity" while aspiring to integrate into the regional and international education system.
To become a center for scientific research and technological application contributing toward the socio-economic development, industrialization, and modernization of the country.
To determine its position as the leading university recognized for its education quality in the national and regional education system.