On October 14th, 2019, Open University Malaysia (OUM) and Institute of International Education of Ho Chi Minh City University of Technology (HUTECH) have organized a training session for lecturers of international joint English Language bachelor's training program at HUTECH.

Dr. David Lim, Dean of Faculty of English Language of OUM, was the main person in charge of the training program. The participations were lecturers at the Institute of International Education who will directly teach the English Language bachelor's training program. The training focused on important subjects such as introduction to the training program and its curriculum structure, syllabus, learning and research materials, teaching plan for the entire course, teaching methodology, testing organization, and effective evaluation.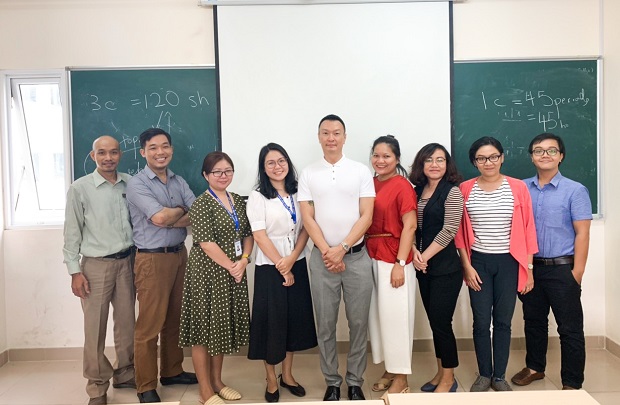 Dr. David Lim, Dean of OUM (white T-shirt in the middle) was in charge of the training

The international joint English Language bachelor's training program consists of 120 credits in 3 years, providing learners with opportunities to acquire not only advanced language proficiency but also knowledge and competencies in linguistics and communication such as advanced and professional writing, as well as literary and cultural studies. Students would study main subjects; for example, Sociolinguistics, Psycholinguistics, Introduction to Drama & Poetry, Language and the Digital Age, Principles of Advertising, Advanced Writing, and Elements of Style to confidently apply for their career and work at professional working environments. After finishing the program, students will receive an international Bachelor's Degree in the English Language issued by the Open University Malaysia.

OUM is the seventh private university in Malaysia which has been rated as a Tier 5 (Excellent) institution. OUM is also a place that attracts many foreign students studying the following qualifications: Graduate studies, Undergraduate studies, and Doctoral studies. In recent years, HUTECH and OUM have successfully deployed many Undergraduate and Master's Degree program cohorts. With the strength of international expansion throughout the years, HUTECH continuously confirms the prestige with a new joint English Language program, severing the need for economic and society development.
Article: Khanh Ngoc
Translator: Tien Dat