Công ty Adnovum thông báo tuyển dụng
Fresh IAM Engineer/
Integration Engineer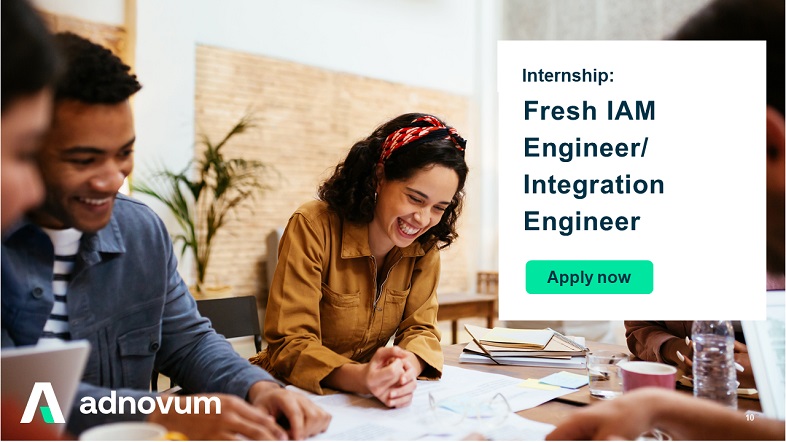 Role and Responsibility
Why IAM (Identity and access management)? Businesses leaders and IT departments are under increased regulatory and organizational pressure to protect access to corporate resources. As a result, they can no longer rely on manual and error-prone processes to assign and track user privileges. IAM automates these tasks and enables granular access control and auditing of all corporate assets on premises and in the cloud.
IAM Engineer is the new roles that exist in Vietnam market in recent year, where you will design, develop, test, implement, and integrate Identity and Access Management (IAM) systems and solutions. You ensure that solutions protect information resources against unauthorized use, inappropriate degrees of access, disclosure, damage and/or loss.
As the job is new to the market, IAM engineer roles require training and flexibility and at Adnovum, we are willing to invest in you to teach and mentor you to become an expert in this new domain.
You will work with our security experts for 3 months from mid Feb to mid May 2022 and then jump to real work of IAM Engineer.

In your daily work, you will learn how to:
Implement of functional and non-functional requirements (availability, security, performance, etc.) of IAM solutions according to specification.
Write documentations (requirement, design, test, guides, etc.)
Design and provide estimation of technical solutions
Develop Unit Test and SIT Test Cases
Install and configure IAM/Security products
Develop integration modules, extensions, or customizations for IAM/Security products
Develop scripts and tools for data migration (data checking, cleansing, transformation, merging, loading, reconciliation)
Collaborate with other Adnovum employees in international cross-functional teams to achieve goals
Qualifications and requirements
:
No experience is required for this role
You want to work with world-class security standards
You are final year student in technical university
You want to have full time job at Adnovum after 3 months training with our expert

If you are passionate about security, sign up for the job.

Why work for Adnovum?

Adnovum is a leading Swiss software engineering company with more than 30 years of experience. We are specialized in the design, implementation and integration of mission-critical large-scale business and security software solutions. Our products secure 80% of all Swiss e-banking transactions; we implement award winning applications for mobile banking as well as complex web applications to manage the order flow of millions of commodities per day.

We offer
project assignments according to your skill set and development goals
working side by side with highly skilled and experienced software engineers
collaboration with colleagues in Switzerland, Hungary, Portugal, and Singapore
friendly working atmosphere in a well-equipped and professional IT environment
long-term and stable job with flexible working hours
a competitive salary plus a performance-based bonus, a premium healthcare plan and free English classes

Please visit http://www.adnovum.vn for further information on Adnovum. Your application will be treated as confidential.

If you have any further questions, please do not hesitate to contact our Recruitment team at jobs@adnovum.vn or +84 28 3816 8200.

---