The LOOK DIFFERENT seminar – Opportunity for learning to make difference.


Written: 20 th December, 2017

Currently, with students learning, Graphic Design in particular, together with those in the area of Communication generally, a powerful message on how a brand image is made, how the differences are carried out. Do not miss the opportunity of learning to build your particular style from experts in the seminar LOOK DIFFERENT.

This was held by the Faculty of Communication and Design at Ho Chi Minh City University of Technology (HUTECH). Taking part in this seminar, students could meet and communicate with the experts covering artists Tran Thanh Canh, and Nguyen Thanh Long – Master of Fine Arts, who used to teach at the Ho Chi Minh City University of Arts and University of Architecture.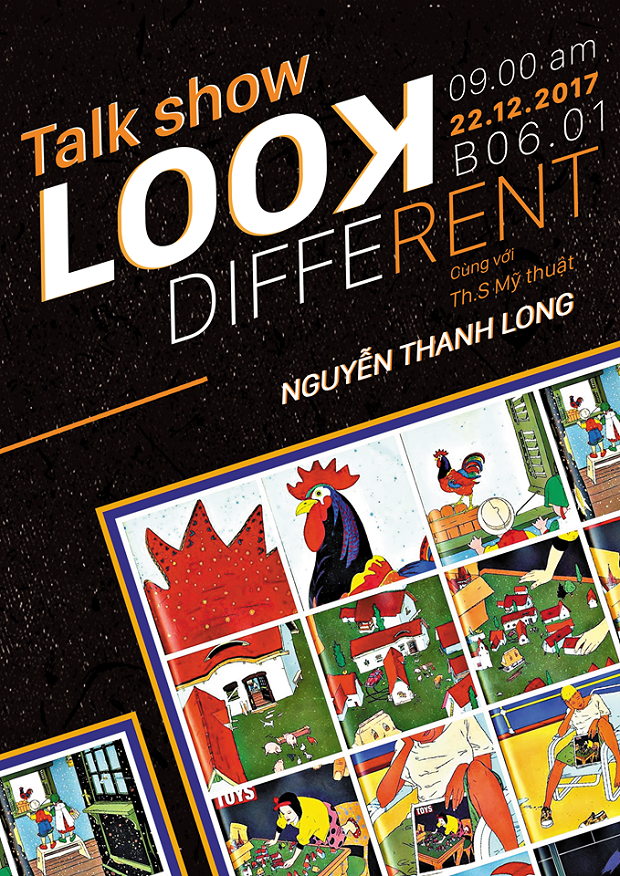 LOOK DIFFERENT is leading students into an adventure discovering special artistic styles. LOOK DIFFERENT was expected to be an exciting talkshow, which supports not only students learning Graphic Design, but also those with an interest in Communication major and the arts generally. With experience shared by the experts, students studied the way to speak to a viewer by using words. Also, the method of choosing and designing a specimen picture, how to deal with color and layout are to express emotion, and convey ideas to everyone in the most impressive and effective manner.
Furthermore, students were also introduced to the "concept", together with special artistic styles of famous artist such as Zoom style with the most typical work Zoon (Picture Puffins) by Istvan Banyai; the Vietnamese modern period artistic style of Mai Trung Thu through his work saturated with enjoymentof life. The caricatures of Steve Brodner - the artist of illustration and cartoon picturesout of the US in the 1970's. Strong, vital and inspiring artisits working in the Graphic Design field.

The seminar LOOK DIFFERENT was held at B06.01, Dien Bien Phu headquarter, at 9AM on 22 nd December.
How to become the proficient designer in the future? Forecasting trends? What skills you have to enhance to achieve your target? Should you have to build your brand image? Could you need the creative ideas or clear-headed mind in business? The general answers for these were solved at the seminar LOOK DIFFERENT, faculty of Communication and Design held at B06.01, Dien Bien Phu headquarter, at 9AM on 22 nd December soon.

Department of Consulate-Admission- Communication
Translator: Nguyễn Nguyễn Đăng Khoa-14DTAM11