On June 24 th and July 1 st , students of the English Language (Faculty of English, Ho Chi Minh City University of Technology (HUTECH)) have a chance to take part in the program;Cultural exchange with ASEAN countries" with students from Singapore Polytechnique.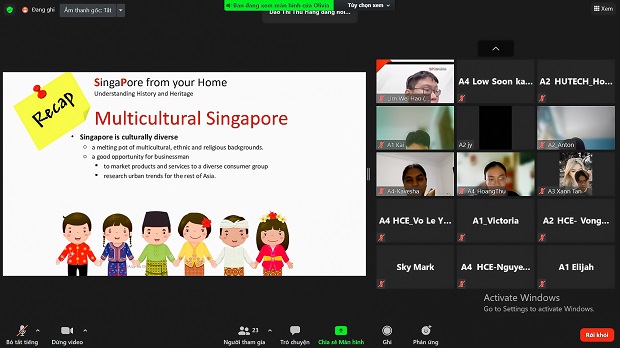 The The cultural exchanges take place online via the Zoom app
Within the scope of the cultural exchange program, there has been a gradual increase in the exchange of a diversified culture between the two countries. Specifically, Singapore students give an introduction to the cultural features, history, as well as cultural and sports exchanges in Singapore. And the promising live exchange shortly will be hosted.
Singaporean students enthusiastically introduces their country
To reciprocate a favor of students from Singapore Polytechnique, HUTECH English language students also°proudly boast Vietnamese cultural identity through major holidays such as Chinese New Year, Mid-Autumn Festival,... Not only that, HUTECH students also teach Singapore students some short communicative sentences in Vietnamese or New Year greetings, popular songs during these holidays.
The program has provided a bridge for students to gain knowledge of Singapore;s culture in particular as well as similarities in the culture of ASEAN countries in general. It is merely an opportunity to improve presentation and communication skills in English, complementing the main learning process.
Some activities of creating bridges to enhance cultural - linguistic understanding for
students
It is well known that the University of Singapore Polytechnique is one of HUTECH;s prominent regional partners. With many common points in the orientation of training, the two parties are increasingly associated through actively coordinating to organize cultural exchange activities, student exchange, expanding learning opportunities for students of the two schools.