In the fight against COVID-19, students from the Faculty of Law of Ho Chi Minh City University of Technology (HUTECH) have contributed their parts in supporting the ongoing citywide efforts to combat and control the pandemic in Ho Chi Minh City.

As a member of the 17DLKA1 Class, Do Quoc Dat has to navigate through his senior year in this stressful time during the height of the pandemic. While still keeping up with his coursework, Quoc Dat has decided to volunteer to support vaccination, collecting testing samples, and distributing vegetables to local neighborhoods in District 7.
Quoc Dat participates in anti-pandemic activities in District 7
"I want to contribute a small part of my efforts together with the doctors, nurses, and volunteers to join hands in the fight against the pandemic. Days working as a volunteer are filled with different emotions, but for me, the most intense emotion is enthusiasm.", Quoc Dat shared.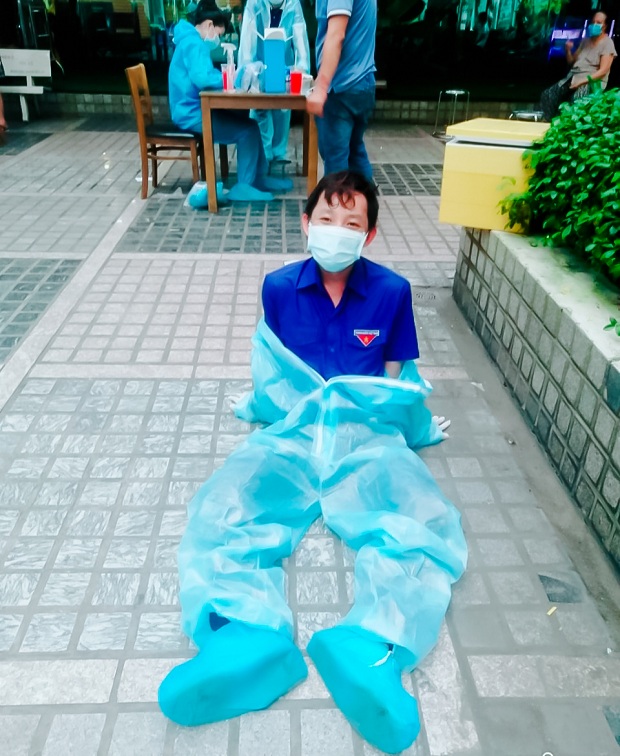 Dat hopes to share a small part of the burden with the anti-epidemic force so that life can return to normal
"If everyone is afraid of the pandemic, who will fight against it?", is the thought that has prompted Le Manh Tien (class 18DLKA2) to join in the volunteer effort. Currently, Manh Tien is in charge of data entry, recording samples, and sending late-night meals to the anti-pandemic force.
Manh Tien lends his support to the anti-pandemic efforts and frontline forces in District 4
Le Anh Tuan (class 18DLKB3), a familiar face among several volunteer groups, including testing coordination in District 12, servicing the zero-dong store in District 7, performing data entry, and receiving goods at different locations assigned by the Youth Union. Anh Tuan said, "Working on the frontline of the anti-pandemic effort in the past few days, there have been difficulties, sadness, and fatigue, but after all, I feel happy and proud."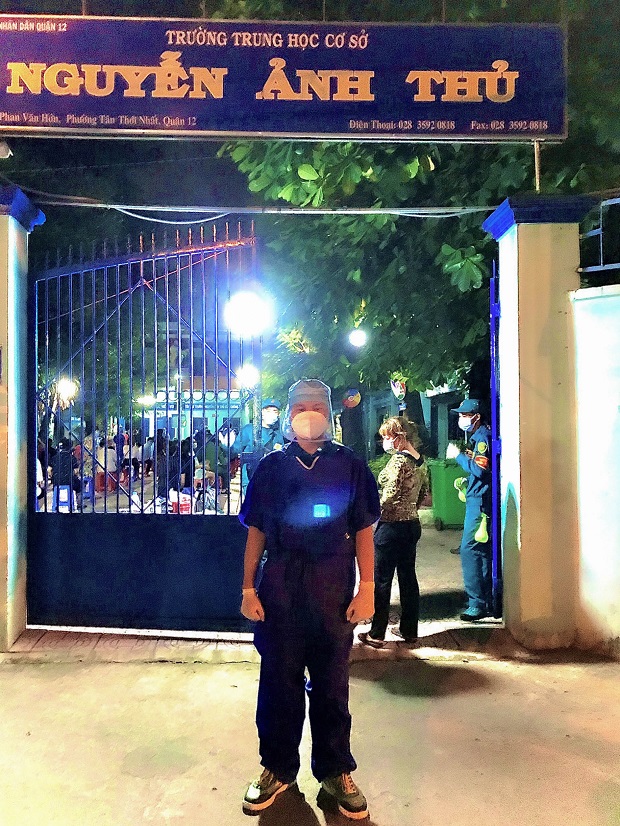 Anh Tuan participates in testing coordination in District 12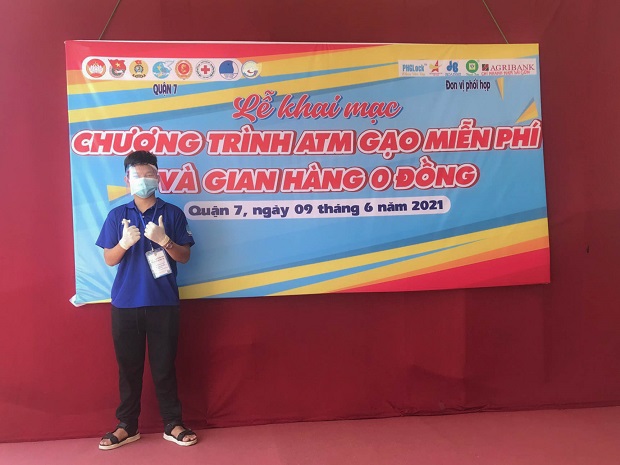 Being on duty at the zero-dong store in District 7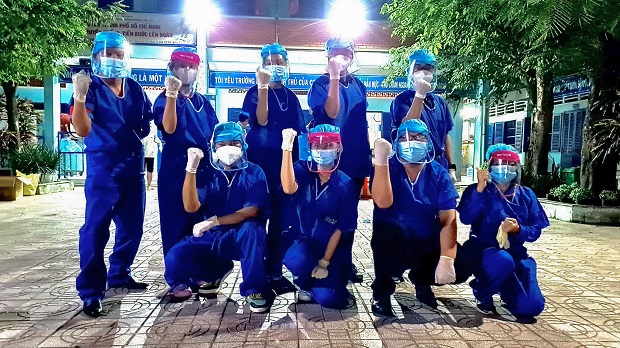 HUTECH Faculty of Law students display their volunteer spirit
Nguyen Trong Nghia (class 19DLKB2) who has been supporting the coordination of testing and vaccination in District 12, District 7, and Nha Be District said, "Every citizen of the city has been on their highest anti-pandemic mentality. Although the work is somewhat difficult, I am not afraid to fight every day for the important goal of winning the pandemic."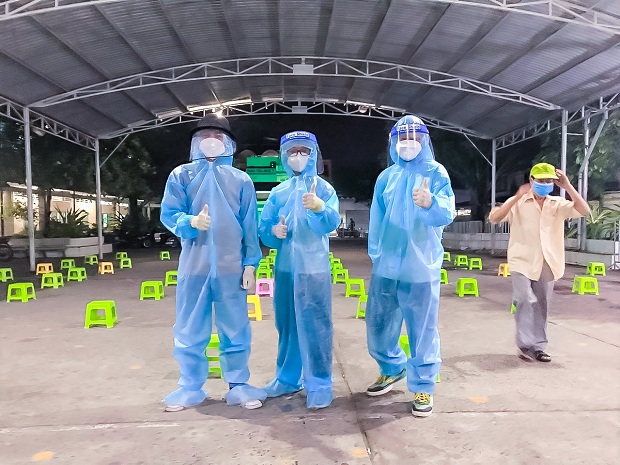 Trong Nghia (black hat) helps with the coordination of the testing and sample collection site
Many students of the Faculty of Law have also displayed their volunteer spirit in their hometowns. Being in charge of recording medical declarations for people traveling at Tan Phong Ferry Terminal (Tien Giang province), Nguyen Duc Tin (class 17DLKA4) shared: "In the current pandemic, volunteering to help out local officials at quarantine checkpoints is very necessary and meaningful."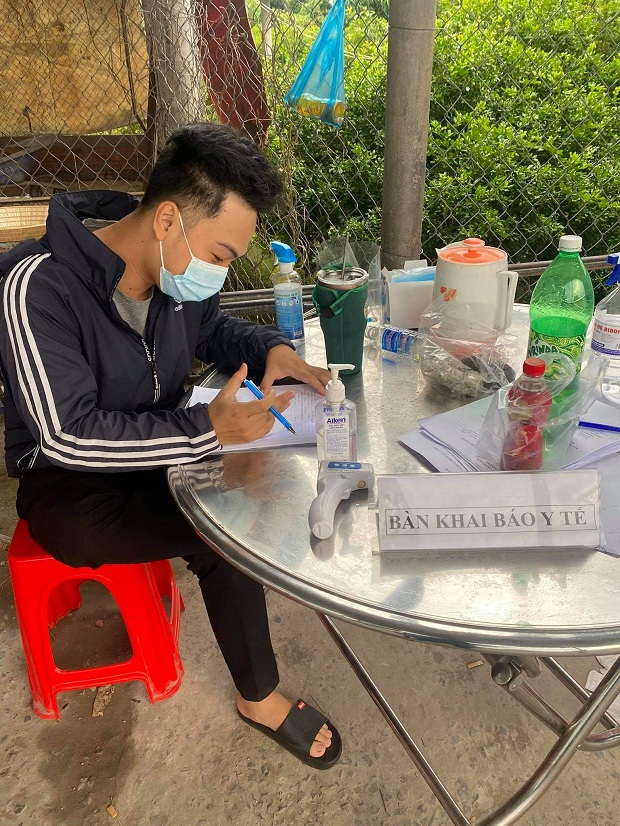 Duc Tin at the quarantine checkpoint of Tan Phong Ferry Terminal (Tien Giang)
Also in Tien Giang province, Nguyen Trung Tinh (class 18DLKB2) has taken part in activities such as distributing face masks, hand sanitizers, and broadcasting pandemic prevention propaganda to the locals at Hong XiNa Tien Giang market. "I hope to be able to spread the spirit of volunteerism by joining hands to support first responders and frontline forces in the fight against the pandemic starting from small yet meaningful actions," Trung said.
Trung Tinh joins in spreading the 5K message, donating masks to the locals, etc.
Above are just some of the many meaningful volunteer stories of students in recent days. Wishing our student volunteers the best of luck, stay strong and healthy, and strictly follow the 5K message while continuing to contribute to the national efforts in the fight against the COVID-19 pandemic.
By Office of External and Public Relations