"Quick chat" with Huyen Anh the first prize winner of the International English Speech Contest
Among 25 candidates from 11 universities in 04 countries in the region (Vietnam, Thailand, Malaysia, Indonesia), Trần Xuân Huyền Anh - a second-year student in the Faculty of English Language, Ho Chi Minh City University of Technology (HUTECH) -excellently won the first prize in the English Speech Contest held by Thepsatri University of Education (Thailand) on 19 August, 2021.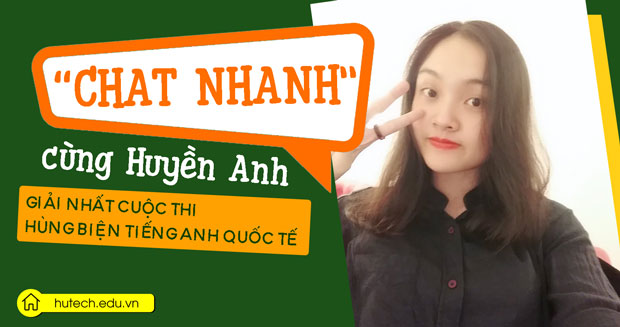 Let's have a "quick chat" with her about our online learning journey and some preparation for the final exam with a very hot topic now: "Impacts on Students' Learning during COVID-19", and also upcoming projects in a long-term run for all students in the Faculty.
Hi Huyền Anh, congratulations on your excellent performance at the recent English Speech Contest!
Did you have plenty of time to prepare for that exam?
Thanks so much for your compliments.
Well, you know, the teachers of the Faculty of began to gather us from the beginning of July for preparation. From then on, we met together once or twice a week to practice. First, the format of the contest was a debate, but a few weeks before the exam, it was changed in a form of getting one topic from one of the judges with only two minutes of preparation, called Impromptu Speech. But luckily, I already had the opportunity to practice and improve my knowledge of presentation skills with the teachers, so I was very confident and hoped to get good marks from the judges.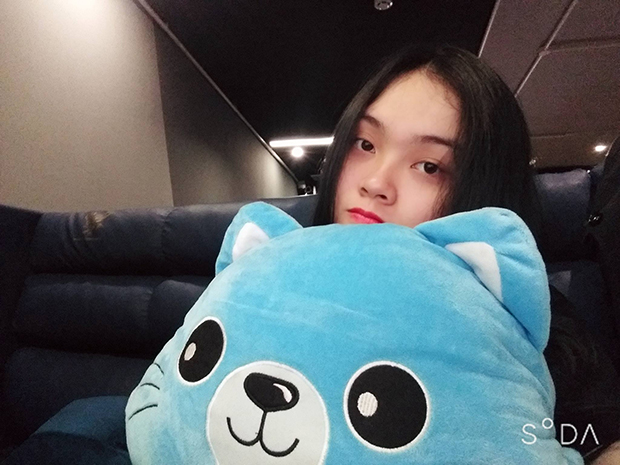 A very friendly and useful girl in helping other classmates with many things, including English
What do you think about online learning during this difficult time?
You see, the contest topic was " Impacts on Students' Learning during COVID-19", so I myself have lots of experience about that! In fact, I personally find that the best thing about online learning is you can sleep more in the morning and of course, you don't have to move from your house to the school, like, more than 10km from my house to school. But, on the contrary, there are many difficulties, such as "hard copy" books or learning materials. You know, before I could print all, but now I can't because all the photocopy shops are closed during the lockdown time. We get stuck sitting for a long time in front of the computer, which can harm our eyes and shoulders. What I love the most is the teachers, I can feel that they teach us in a very enthusiastic way. You see, we often have many obstacles, such as the microphones are not in good condition, the cams are not clear enough, or sometimes the network fails, the light goes out, and so on. But our teachers sympathize with them all! Now I just want to go back to school, I miss my class and my friends so much!
Have you got any career orientation when choosing English as your major?
At the moment, I am preparing for studying more modules in advance, so I can choose "Business English" as my sub-major at the end of this year. You see, I've actually been associated with teaching profession for a long time, my first part-time job was to teach elementary school children, then later I also taught middle school and high school students. I love my students very much, but I think that's not my future career. And I've also done some translating and interpreting, but I think that field doesn't match my personality. So I myself choose "Business English" with a hope of to experience more new things. You see, after doing a lot, I know what I actually like now!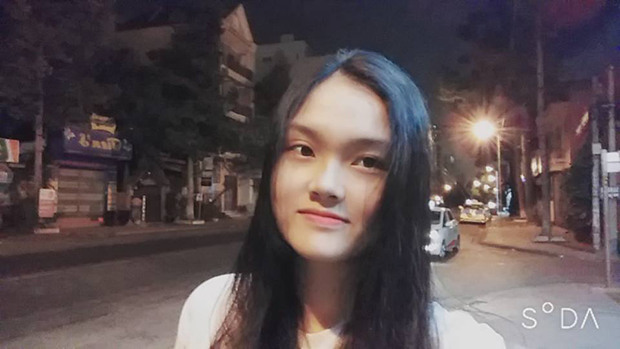 This cute girl believes that experiencing a lot will help you realize your own passion!
You seem to be very confident in doing many "left hand" jobs. How did you learn English to get this achievement?
Actually, I don't have many good studying methods (laughs)! I think I'm lucky to have grown up with English, I didn't realize it myself until my friends told me that my Youtube account is full of English videos and English music.
In my opinion, language is a means of communication, but if you want to be fluent in it, it's better to use it every day. I see some seniors also learn foreign languages by changing their phone interfaces, Facebook pages, Youtube, ... to the language they are learning so that they themselves have the opportunity to use it every day.
Winning the first prize in a speech contest with the main theme revolving around the Covid-19 epidemic, what is your favorite thing in your speech?
I like this saying the best: "Happiness can be found even in the darkest of times, if one only remembers to turn on the light". In the current difficult situation, I hope that in addition to keeping myself safe, everyone will be a ray of light in the lives of family, friends and the community.
​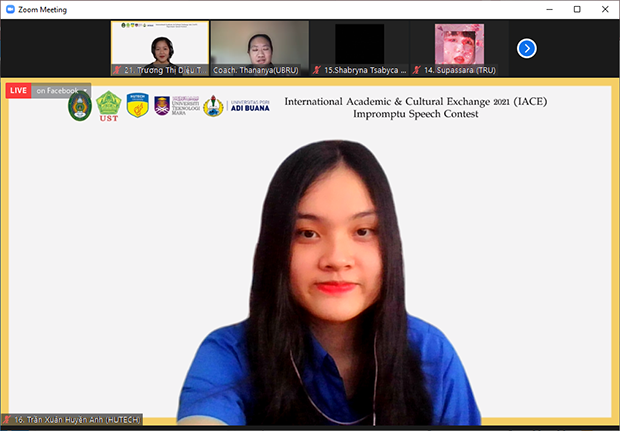 One more question, do you have anything to the community during this lockdown time?
I would like to send my sincere thanks to the Deputy Prime Minister Vu Duc Dam, the doctors, the nurses, the logistics departments, the vaccine distribution and oxygen tank force, the social keeping order force, the sponsors, the volunteers and the entire frontline against the epidemic. Thanks to their great merit and noble sacrifice, I can study safely and my family is safe during the pandemic. I wish everyone good health and peace!
Thank you Huyền Anh very much and wish you success with your choice!
Hopefully the epidemic will vanish soon so we can meet at HUTECH and have fun together!
Interviewer: Nguyên Thảo (from the Office of Communication - HUTECH)
Pics from Huyền Anh
---