On February 25th, the International Training Institute of Ho Chi Minh City University of Technology (HUTECH) held a graduation ceremony and awarded diplomas to graduates of the Masters, Bachelors programs and International Bachelor's Programs in Economics.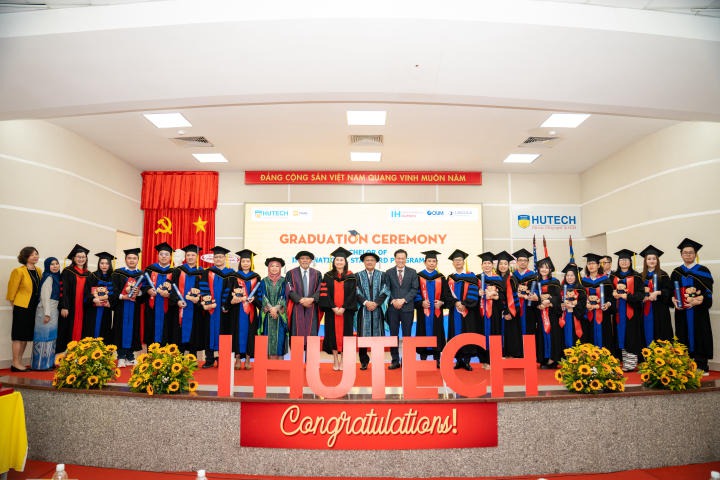 The graduation ceremony took place at Saigon Campus with more than 200  Masters, Bachelors attending.
The ceremony was a special event that recognized the striving and relentless efforts of 23 Masters from Open University Malaysia (OUM), 11 Masters from Lincoln University, 38 Bachelors from 02 OUM programs, Lincoln, and 143 Bachelors of International programs at HUTECH.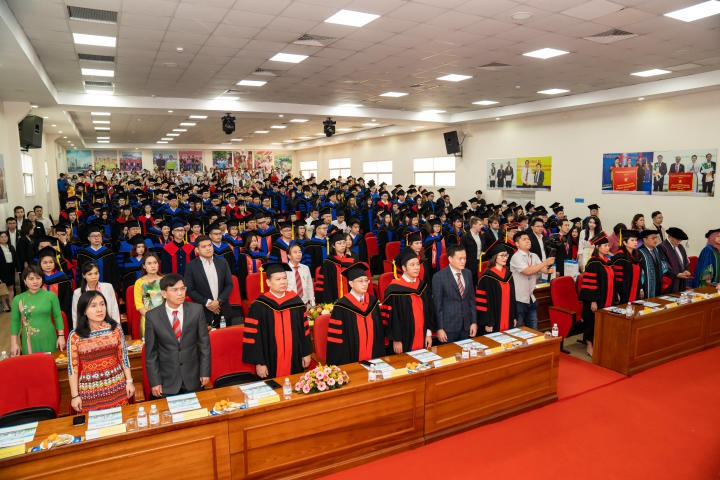 The ceremony is an important milestone, marking the process of efforts from students
Speaking at the opening ceremony, Dr. Nguyen Thuy Hong Van - Director of the Institute of International Education - thanked the universities, partner businesses, and parents who trusted their children to study at HUTECH. At the same time, she also sent her best wishes to the Fresh Masters, Bachelors: "Today you have completed a stage in your journey, but the end of this phase is the beginning of another phase. She hopes that the knowledge you gain from HUTECH will help you become the next generation of leaders in the field you pursue."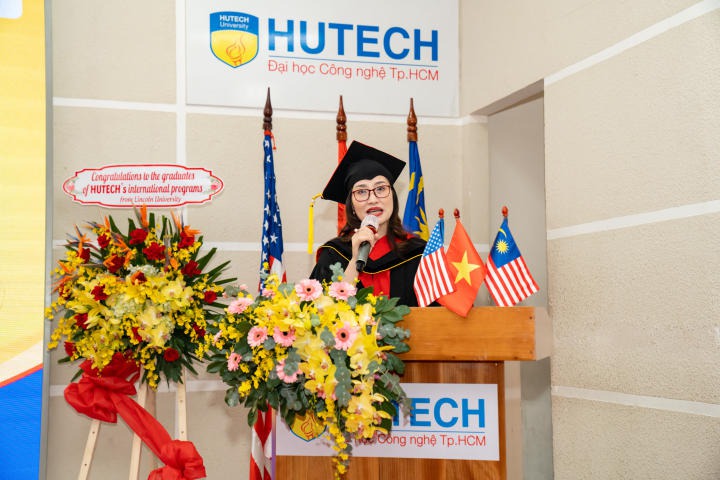 Dr. Nguyen Thuy Hong Van shared her joy at the ceremony
Along with that, Assoc.Prof.Dr. Ahmad Izanee Awang - Rector of Open University Malaysia (OUM) also gave his best wishes to the students: "Today is an important milestone and we are very proud of you. You have worked very hard. During your studies, your diploma is recognized worldwide for its quality. Be proud of this, keep learning, and make the most of the opportunities. I believe that you will have many great job opportunities  and a bright future." He also expressed his pride for the graduates of  Masters and Bachelors.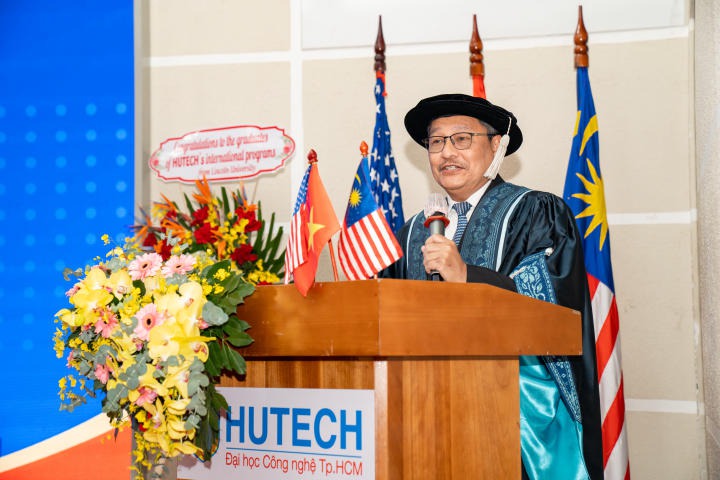 On behalf of the fresh Masters and Bachelors in the program, Le Thi Ho Phuong, a recent graduate of HUTECH's International Bachelor's program, expressed her gratitude to the lecturers and parents for their support. She also expressed her determination to strive constantly and succeed in her future career.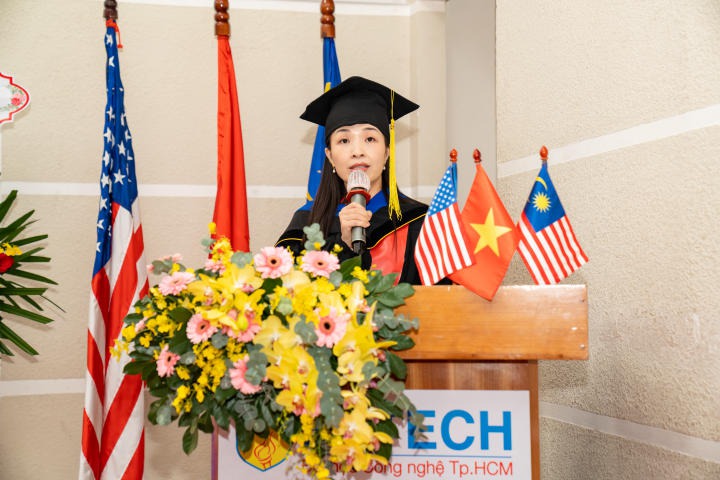 The graduation ceremony took place solemnly at Saigon Campus with representatives of training partners attending, including Ms. Wong Chia Chiann - Consul General of Malaysia in Ho Chi Minh City, Ms. Ngoc Quach - Senior Advisor of the US Consulate General in Ho Chi Minh City, Assoc.Prof.Dr. Ahmad Izanee Awang - Rector of OUM, Prof. Datuk Dr Mohd Tajudin Md Ninggal - Vice Rector of OUM, Prof. Dr. Siti Aishah Hashim Ali - Head of Training of OUM, Ms. Fatimah Ibrahim - Head of International Cooperation Department OUM, and Dr. Do Huu Nguyen Loc - Vice President of University of Economics and Finance, Ho Chi Minh City.
The ceremony was also attended by representatives of many partner businesses, including Ms. Nguyen Thi Que Anh - Human Resources Director of Guardian Vietnam, Mr. Nguyen Van Hung - CEO of Golden Land, Mr. Dang Quang Phat - Director of Chubb Life Vietnam Co., Ltd., Ms. Dinh Mong Kha - CEO of Vietguys, Ms. Cao Hoang Diem Chi - Supply Chain Manager of Indorama Venture, and Ms. Nguyen Thi Hong Van - Director of ACS - Electrical Machine Company Limited, AQUA Vietnam.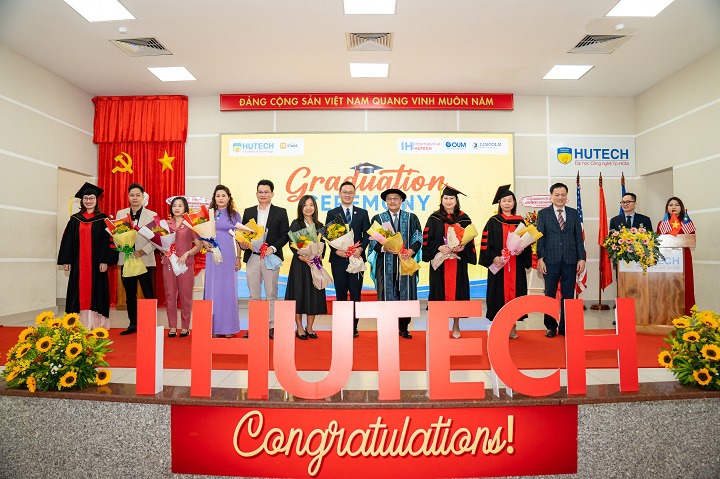 The representatives of HUTECH included Assoc.Prof.Dr. Bui Xuan Lam, who served as Vice Chairman of the School Council, Prof.Dr. Nguyen Trung Kien and Assoc.Prof.Dr. Phan Dinh Nguyen, both of whom were Vice Rectors, Dr. Bui Van The Vinh, also a Vice Rector, Dr. Nguyen Thuy Hong Van, the Director of the Institute of International Education, as well as leaders of the various faculties, institutes, divisions, and departments were all present. 

Congratulations to our graduates of Masters, Bachelors, and Engineers for completing their academic tasks and wishing you much success in your future careers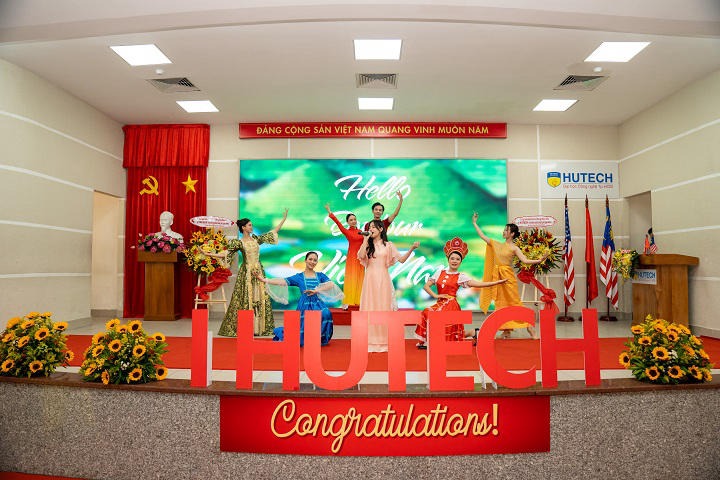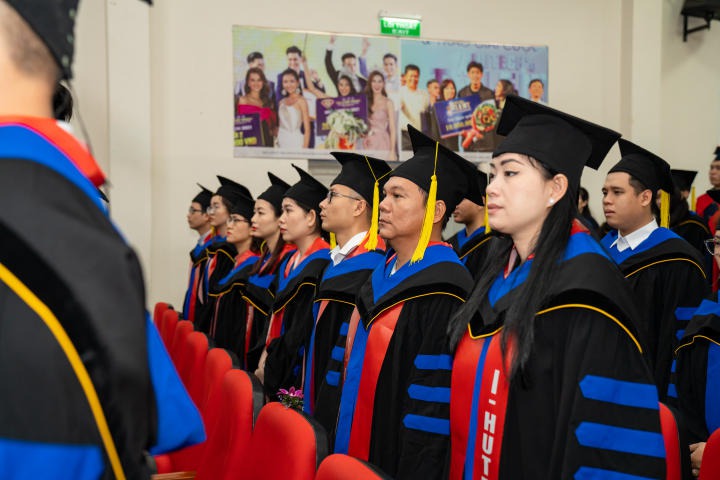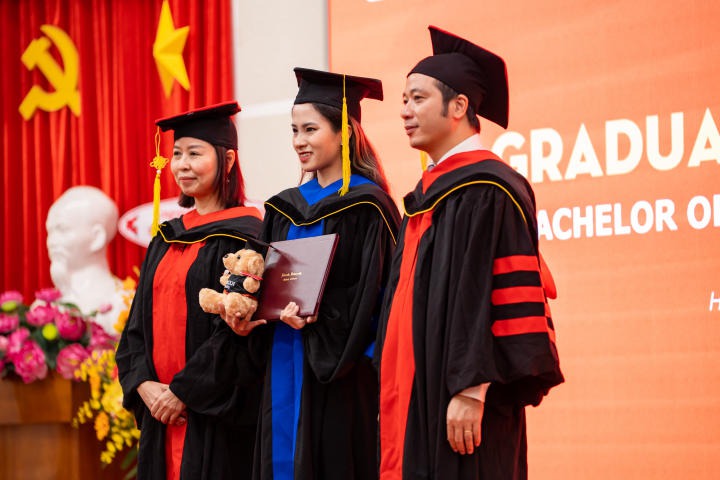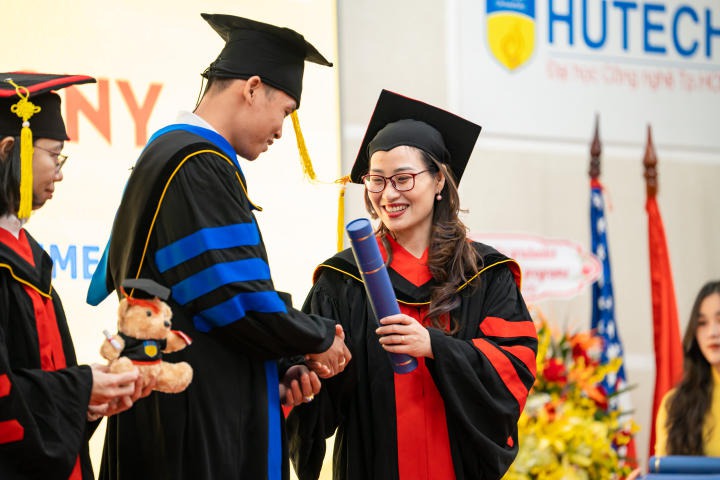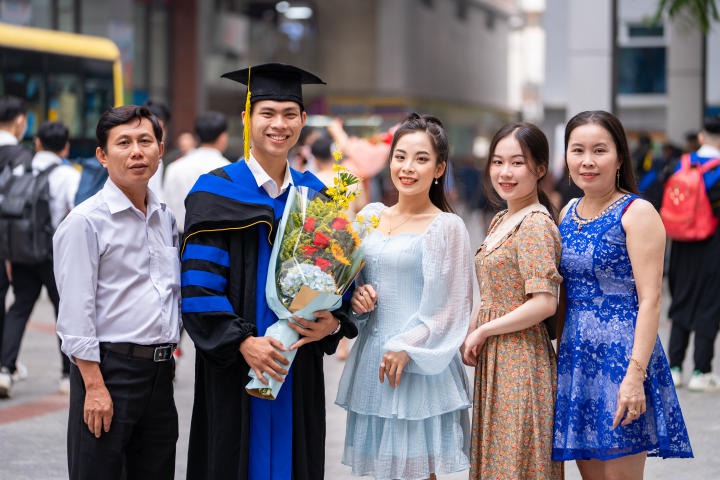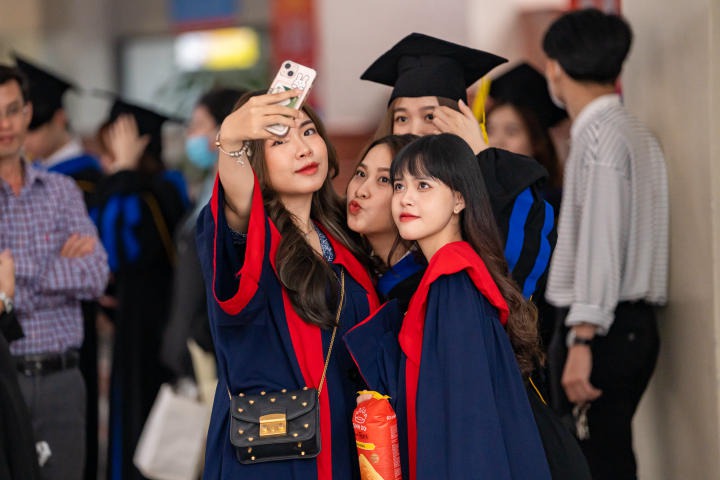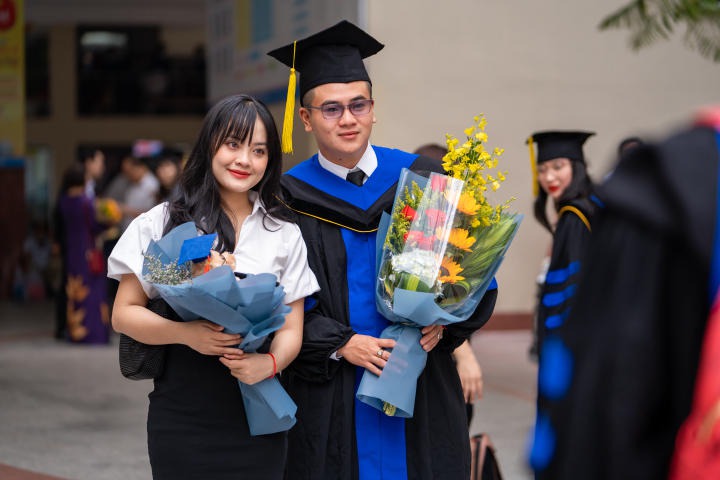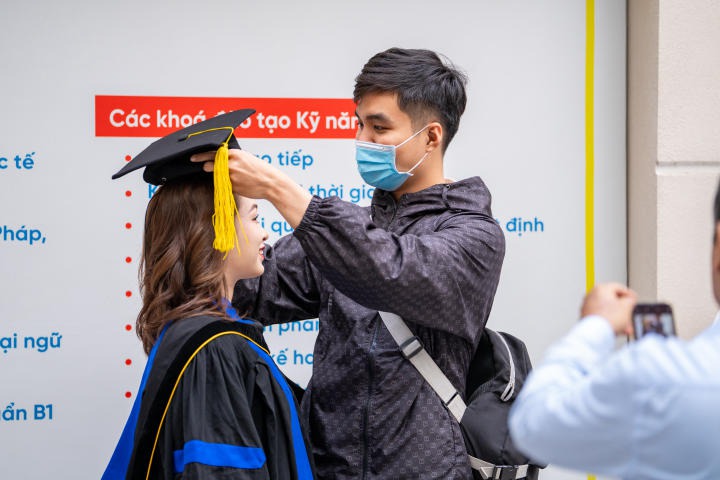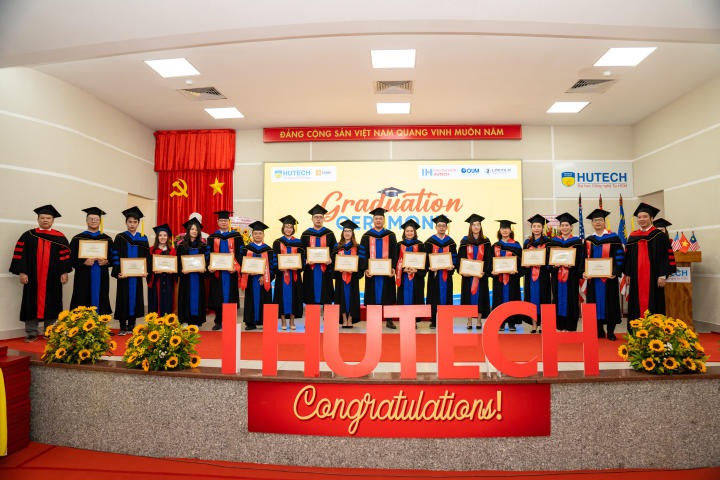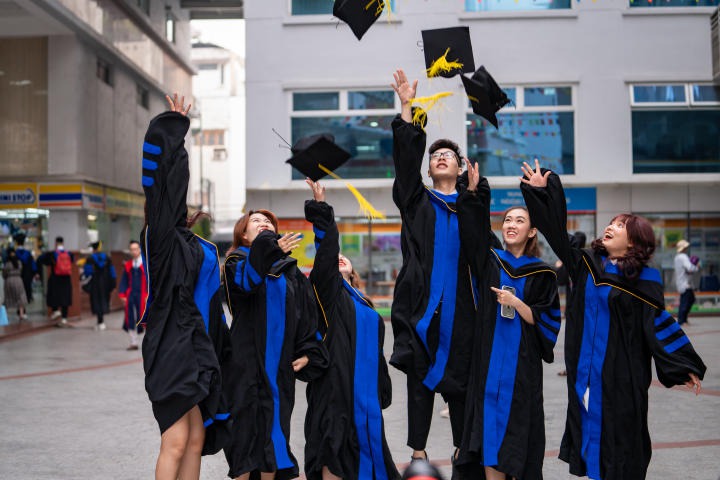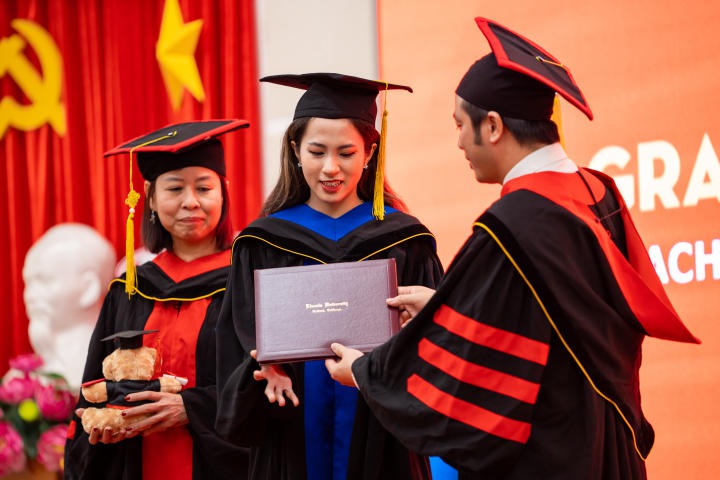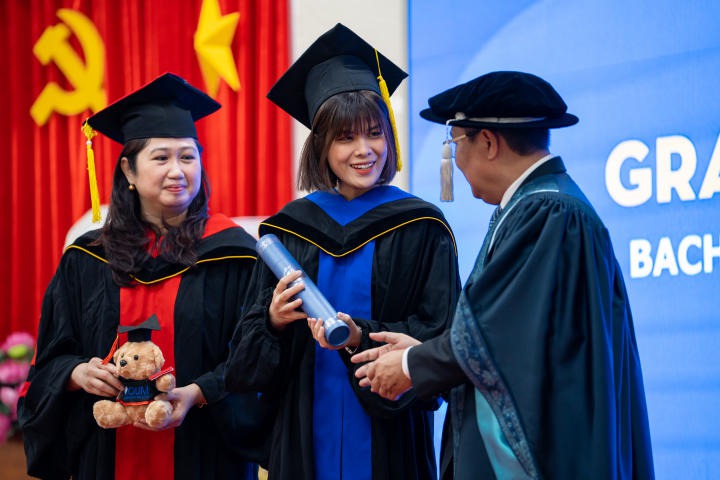 Check out some more photos from the graduation ceremony!
News: Diểm Hương
Photo: Trung Kiên
Office of External and Public Relations