On February 28th, the next episode of the series "Going Out and Waiting for a Job" was officially broadcasted with the topic "Restaurant and Hotel Management Careers.
Mr Tang Thong Nhan, Vice Dean of the Faculty of Tourism and Hospitality Management at Ho Chi Minh City University of Technology (HUTECH), took on the role of speaker in this episode. In this episode, the teacher shared valuable insights about the Hotel and Restaurant Manager profession and gave helpful advice to students pursuing this career.

The Covid-19 pandemic has affected the economy, including the tourism, restaurant, and hotel sectors. The recovery of the tourism industry, especially the international market, will be a driving force to promote the healing and development of the tourism, restaurant, and hotel sectors. In particular, the return of Chinese tourists will be a positive signal for Vietnam's tourism industry. According to Mr Tang Thong Nhan, the tourist markets of China, Europe, Korea, and India will be potential markets that bring many development opportunities.
Regarding the requirements for Hotel and Restaurant Managers,Mr Tang Thong Nhan stated that the criteria for personnel in this profession are increasing. Many universities in Vietnam offer training programs in Tourism and Hospitality Managem, in addition to students studying abroad and personnel transfers within the industry, resulting in an abundant supply of personnel. Therefore, those working outside the industry will need help competing with highly qualified and professionally trained staff. When one is professionally trained, they will have more opportunities for growth and advancement.
A restaurant manager needs to have logical and critical thinking skills, which help them understand and meet the needs of their customers. Along with that, they must possess foreign language proficiency, diplomacy (to build relationships and better understand customers, and a professional and well-mannered appearance.
For those who want to become a manager in the restaurant and hotel industry, they can study majors such as Restaurant and Catering Management and Hotel Management. M Tang Thong Nhan also shared that when selecting a major, students need to learn more about the significance, training direction, and training program of the major at universities to make a reasonable choice.
Students who study Restaurant and Hospitality Management, in addition to working professionally in the industry, can also switch to working in closely related industries within the service industry. This is because when you train to become a Restaurant and Hotel Manager, you learn and train in social skills, which can be adapted and applied to other service-related industries.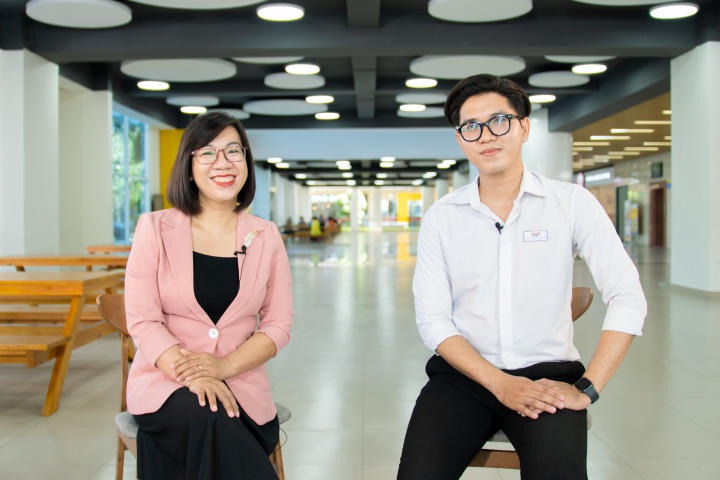 "Accounting - Auditing " will be shared by Ms. Hoang Thi Ngoc Quynh on March 7
Mr Tang Thong Nhan has shared helpful information about the Hotel and Restaurant Manager profession. Let's look forward to the next episode, "Accounting - Auditing Profession," with the sharing of Ms. Hoang Thi Ngoc Quynh from Peak Tax Consulting and Accounting Service Joint Stock Company at 19:00 on March 7 on various platforms of HUTECH's society.

Office of External and Public Relations