This morning (February 25), the Faculty of Finance and Commerce, Faculty of Business Administration, Faculty of Marketing, and the Business Cooperation Center of Ho Chi Minh City University of Technology (HUTECH) organized the HUTECH Career Day 2023 - The Economics Job Fair, which brought together 66 businesses and offered more than 4,800 jobs in a variety of career positions for students.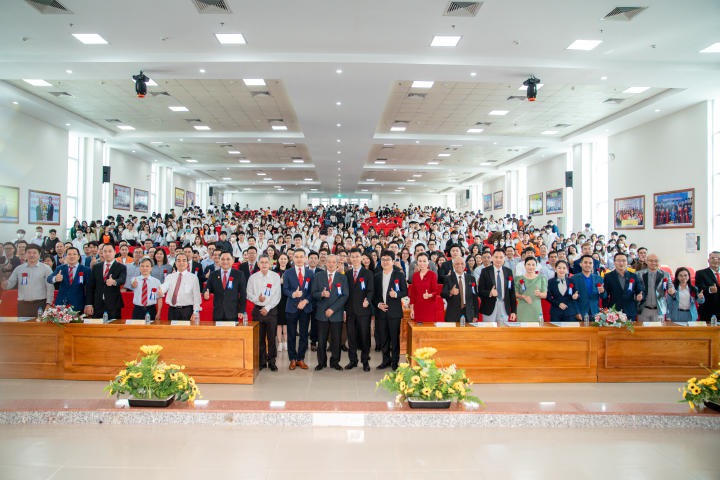 HUTECH Career Day 2023 took place at Thu Duc Campus
The event gathered more than 66 businessess to 
Eight enterprises sponsored HUTECH Career Day 2023, including the Gold sponsor, Orient Commercial Joint Stock Bank (OCB); Silver sponsors: BIN Corporation, Viet Capital Commercial Joint Stock Bank (Viet Capital), Vietnam Mediastep Software Company Limited (GoSELL), Saigon Thuong Tin Commercial Joint Stock Bank (Sacombank); and accompanying sponsoring enterprises: JobTest Co., Ltd., Ho Chi Minh City Development Commercial Joint Stock Bank (HDBank), and Vietnam Prosperity Commercial Joint Stock Bank (VPBank).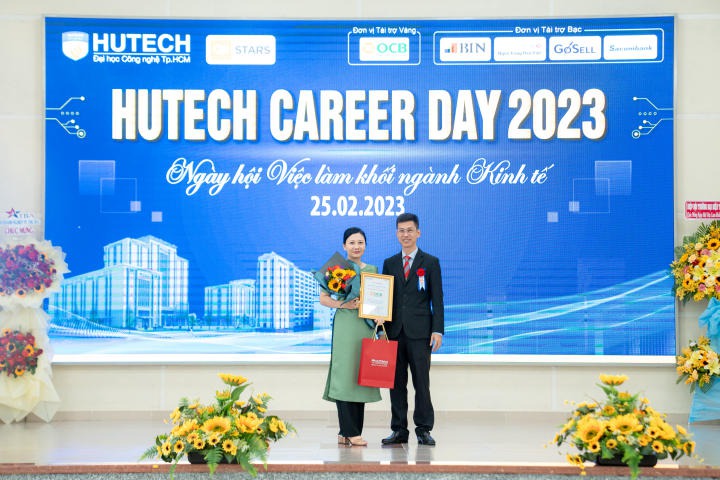 Assoc. Prof. Nguyễn Thanh Phương - Vice rector at HUTECH gives flowers to the Gold Sponsor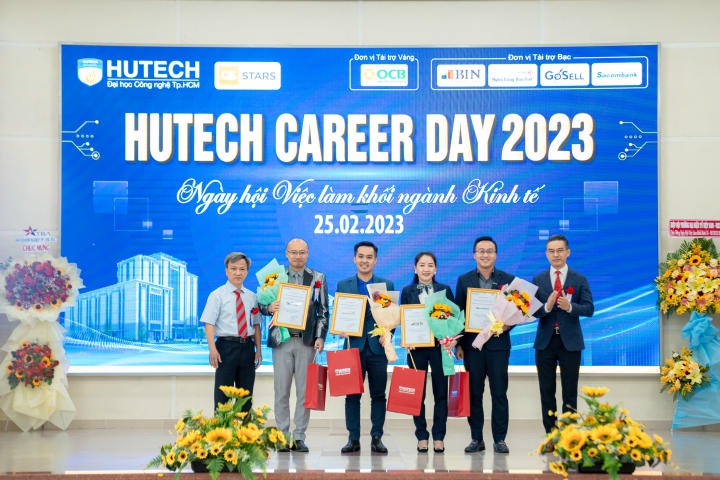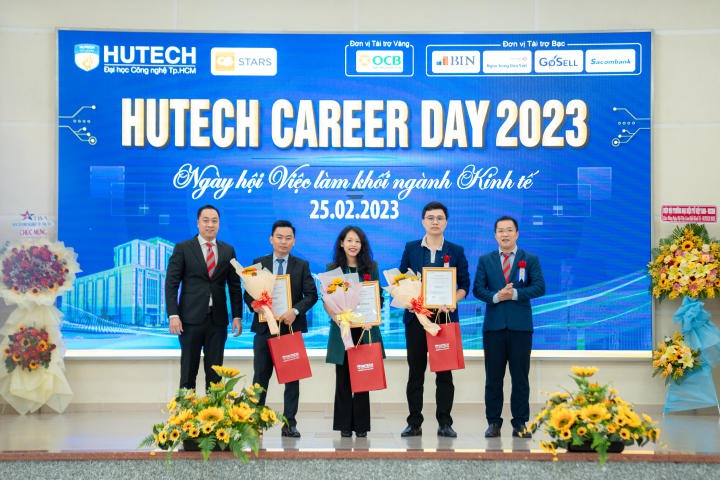 Dr. Nguyen Quoc Anh - Vice Rector (far left), and Dr. Le Dinh Luong - Chief of the School's Office, sending flowers and thank you letters to the sponsoring businesses
The event brought together 66 businesses for recruitment, including major companies such as TH Joint Stock Company (TH True MILK), Lotte Vietnam Trade Center Company, Vietnam Livestock Industry Joint Stock Company (Vissan), Yakult Vietnam Co., Ltd., C.P. Vietnam Livestock Joint Stock Company, Emaarland Real Estate Investment Consulting Joint Stock Company, TiniWorld, Bibica Joint Stock Company, SSI Securities Joint Stock Company, Joint Stock Commercial Bank for Foreign Trade of Vietnam (Vietcombank Saigonpearl), Vietnam Digital Platform Solutions Joint Stock Company, Nextpay Digital Transformation Group Joint Stock Company, MGK International Communication and Training Joint Stock Company, and AIA Life Insurance Company Limited (Vietnam).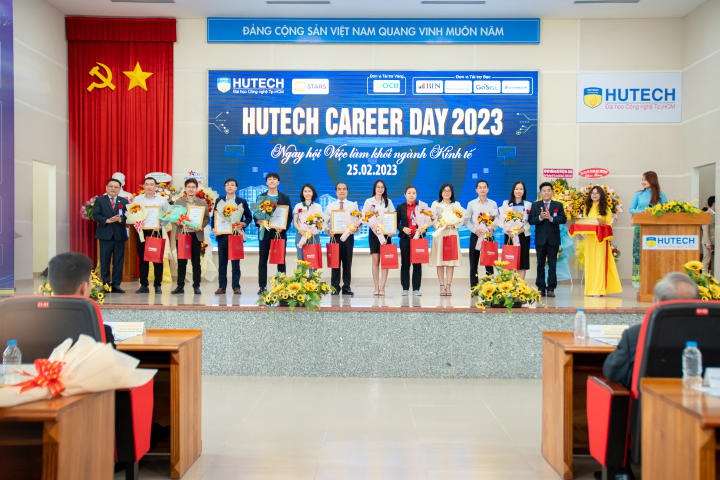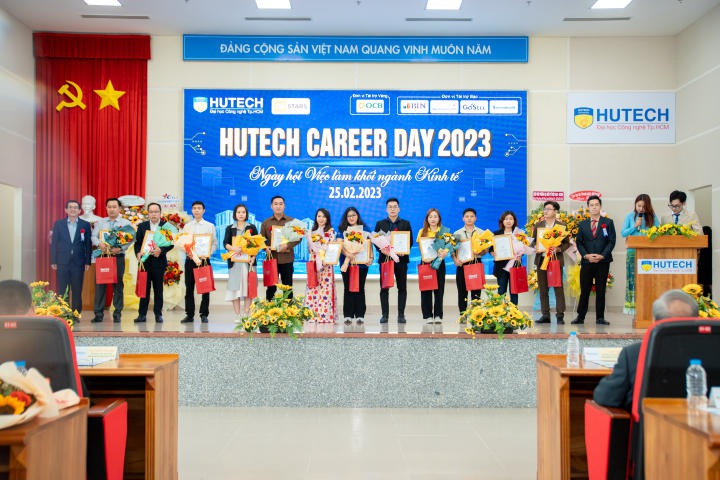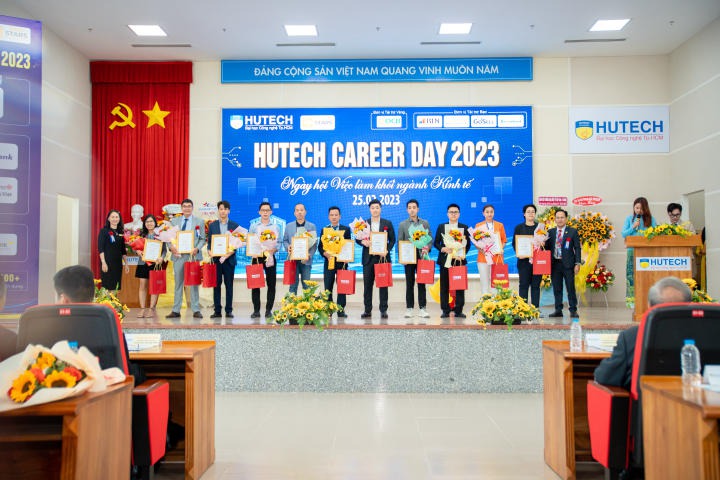 HUTECH representatives giving flowers and thank you letters to businesses participating in recruitment
Speaking at the opening of the festival, Assoc. Prof. Dr. Nguyen Thanh Phuong, Vice President of HUTECH, affirmed that "Ho Chi Minh City University of Technology is committed to producing high-quality human resources to serve the labor market. Over the past 27 years, HUTECH has established its position in Vietnam's education system, thanks to the contribution and companionship of businesses. Today's HUTECH Career Day 2023 is an opportunity for students to explore their potential and a platform for the university and businesses to collaborate."
Additionally, Dr. Phuong stated that the festival is a significant event for both the university and the business community, providing a platform to foster mutual development and growth.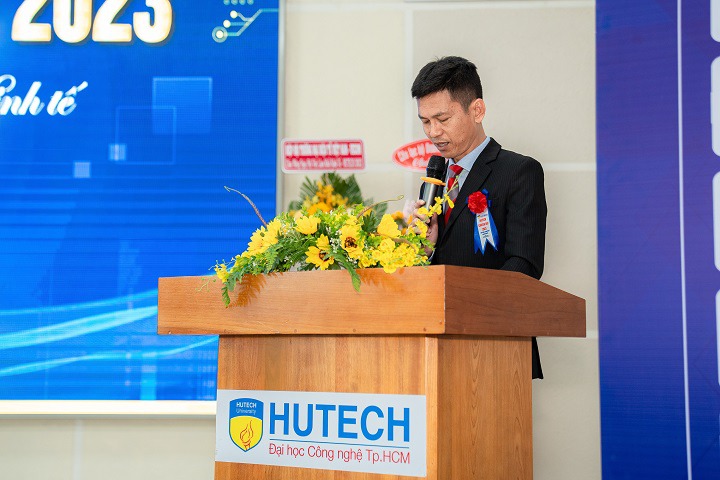 At the opening session, Ms. Tran Kim Chi, the Training and Human Resources Director of OCB, remarked, "During the past period, Orient Commercial Joint Stock Bank and HUTECH have had a very sustainable and long-term cooperation and development. We also have had HUTECH students become senior managers in the bank. In 2022, Phuong Dong recruited more than 300 HUTECH students for official positions and internships. In 2023, with the bank's development, we will continuously open new transaction points and continue to recruit hundreds of HUTECH students."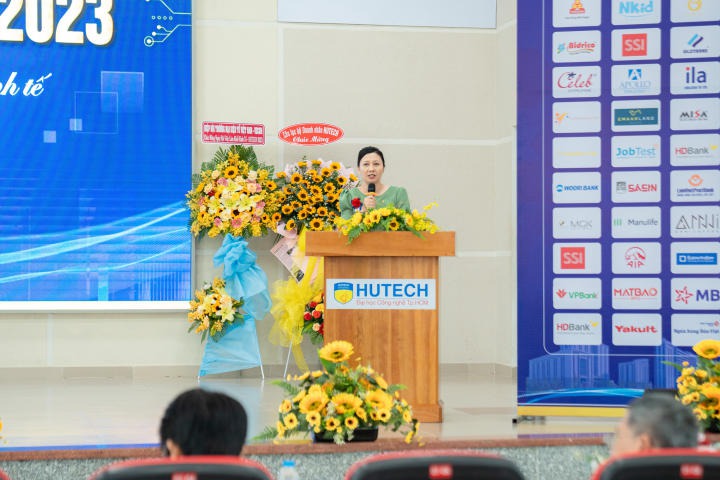 Ms. Tran Kim Chi expects the cooperation relationship with HUTECH to be more and more sustainable.
As part of the opening ceremony of the festival, HUTECH signed a cooperation agreement with five partners to train human resources that meet business needs. The partners include Tan Quang Minh Trading and Production Co., Ltd (Bidrico), Mediastep Software Vietnam Co., Ltd (GoSELL), Mat Bao BPO Joint Stock Company, Crystal Bay Travel Card Joint Stock Company, and Startup Channel Joint Stock Company. This signing ceremony provides many opportunities for students to gain experience, learn, and develop their careers based on the practical training strategy that the University has pioneered and actively promoted recently.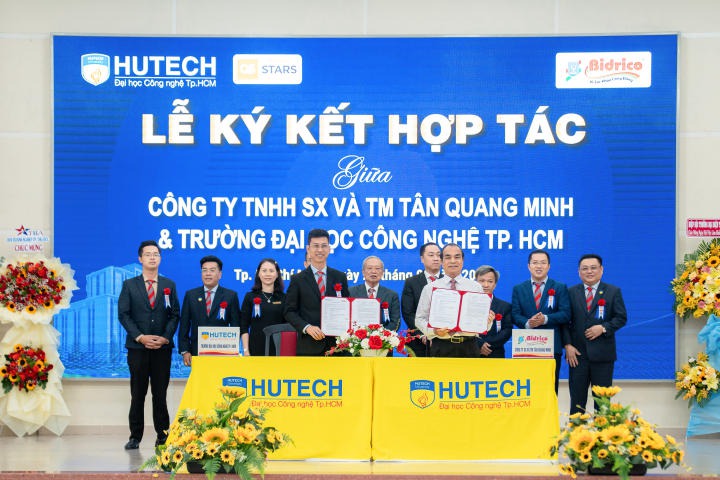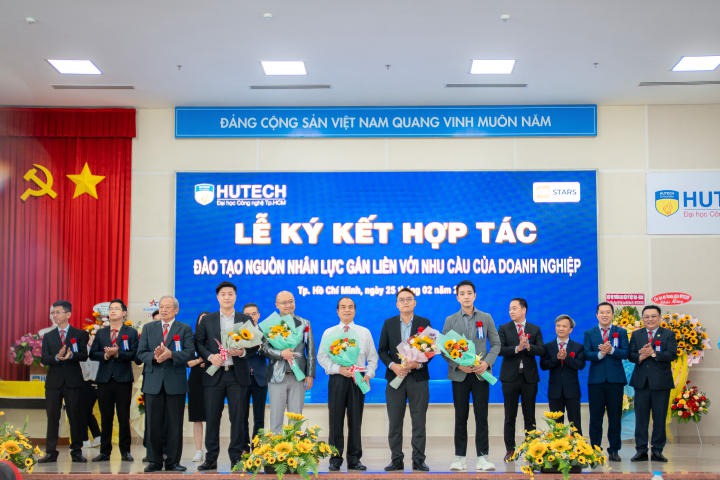 HUTECH leaders give flowers to thank the cooperation signatories
Following the opening ceremony, the students eagerly met with the businesses in an exciting atmosphere. With over 70 booths from 66 companies offering diverse job positions, such as tellers, bankers, customer relations officers, financial planners, cashiers, accountants, sales professionals, marketing specialists, PR specialists, training specialists, teachers, teaching assistants, securities interns, interns for personal and corporate customer relations, and more. The students participated confidently in interviews, discussed their desired career positions, and listened to the businesses' sharing and guidance.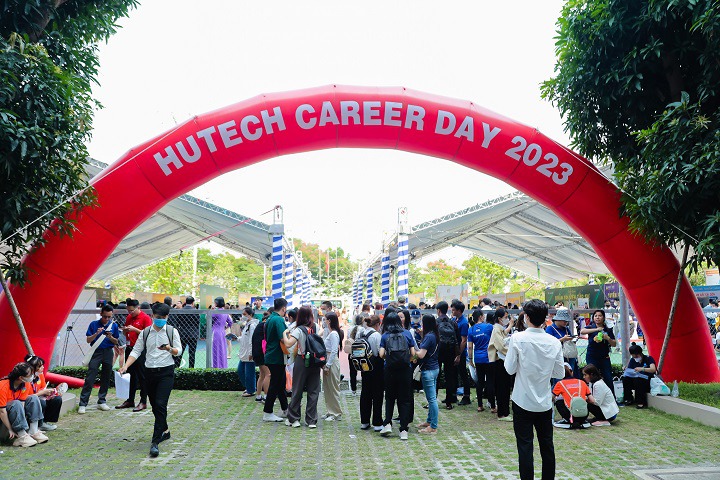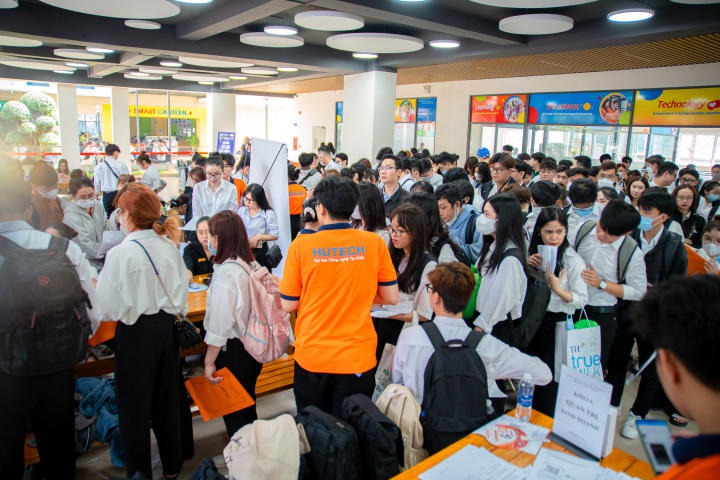 Students confidently participate in interviews and find job positions at more than 70 booths of 66 businesses.
Ms Nguyen Thi Thu Hoai, a fourth-year student of Business Administration, eagerly shared her desire to find a job opportunity as a sales staff. She stated, "To apply for this position, I have prepared myself psychologically, reviewed the knowledge I have acquired over my four years in college, and practiced answering behavioral questions that may be asked by the employer." Additionally, she confided, "I believe that job fairs are crucial as they provide students with the opportunity to interact with potential employers and learn about recruitment requirements from different businesses. By participating in such events, students can find jobs, hone their communication skills, and gain experience in interviewing."
Mr. Dong Quin, the Director of Training and Human Resource Development of BIN Corporation Group, stated that they are looking to recruit many positions related to business administration and finance, such as banking, marketing, and e-commerce, at the festival. The corporation is specifically looking to hire 100 sales and marketing staff for their new brand field and up to 300 individuals for other fields. He also expressed his admiration for HUTECH students, saying, "We believe that HUTECH students are dynamic, creative young individuals with excellent skills, particularly in English, which is a valuable asset to our current human resources."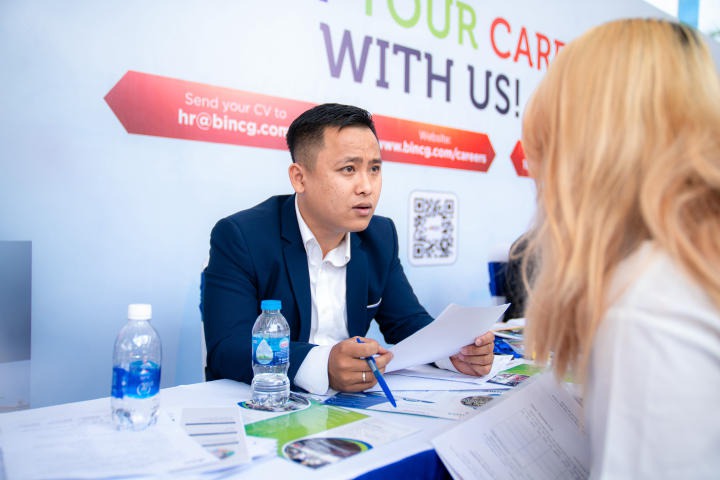 HUTECH Career Day 2023 has provided thousands of job openings and valuable career information to students, enabling them to secure their desired positions, develop essential soft skills, and gain a better understanding of employers' needs. This event has helped students navigate their future career paths with greater clarity and direction.
The Festival was held at Thu Duc Campus and was attended by several notable figures, including Mr. Peter Hong, Vice Chairman of the Overseas Vietnamese Entrepreneurs Association; Mr. Tran Viet Anh, Vice Chairman of Ho Chi Minh City Business Association and Chairman of Ho Chi Minh City Business Association - Thu Duc Branch; Mr. Hoang Trong Quy, Deputy Chief of Office of Ho Chi Minh City Department of Finance; Mr. Nguyen Duy Khiem, Deputy Head of Debt Management and Tax Debt Enforcement Division, Tax Department of Ho Chi Minh City; Mr. Nguyen Phuc Khoa, Vice Chairman of Vietnam Retailers Association (AVR), Vice Chairman of Ho Chi Minh City Food and Food Association (FFA), Vietnam Animal Industry Joint Stock Company (VISSAN); Mr. Nguyen Dang Hien, Vice Chairman of FFA, General Director of Bidrico; Dr. Nguyen Thanh Giang, Rector of Ho Chi Minh City University of Economics and Finance (UEF); Mr. Nguyen Tan Phong, Head of the Supervisory Board of VECOM E-commerce Association; Ms. Pham Nguyen Thi Ngoc Chau, Business Relations Manager - Education Relationships, ACCA Mainland Southeast Asia; and Dr. Vu Van Hoang, Chairman of HUTECH Alumni Association and President of HUTECH Entrepreneur Club
HUTECH representatives present at the Festival included Dr. Kieu Tuan, Secretary of the Party Committee and Standing Committee of the University Council, along with teachers, administrators, and leaders from various faculties, institutes, departments, and departments across the university.
Lãnh đạo HUTECH tại lễ khai mạc
 
Cùng xem thêm một số hình ảnh khác từ Ngày hội việc làm khối ngành Kinh tế sáng nay!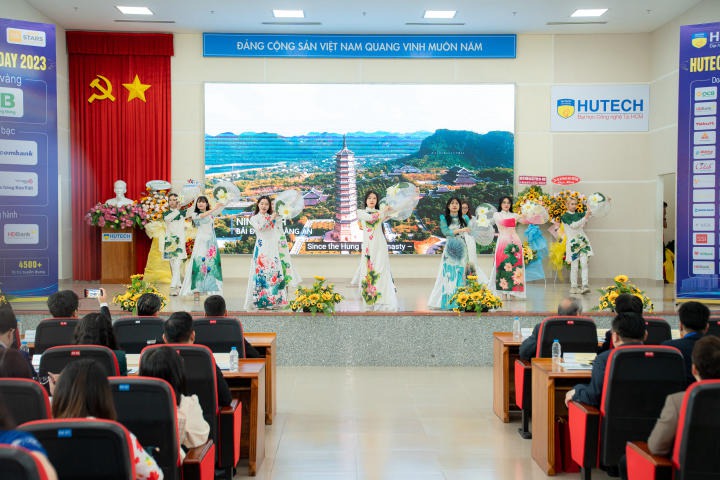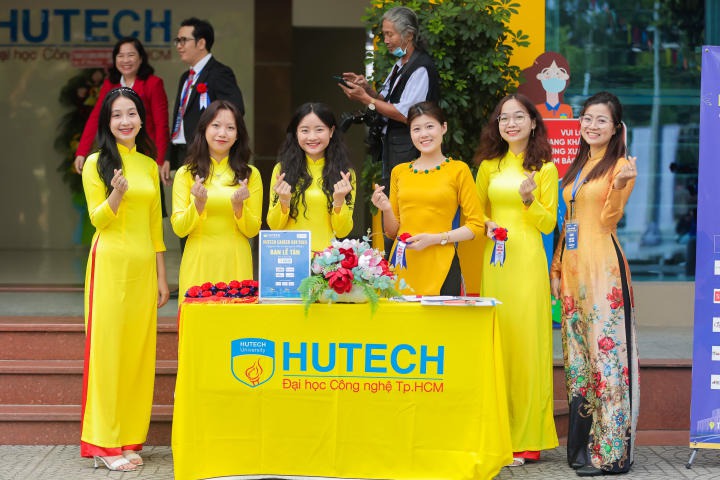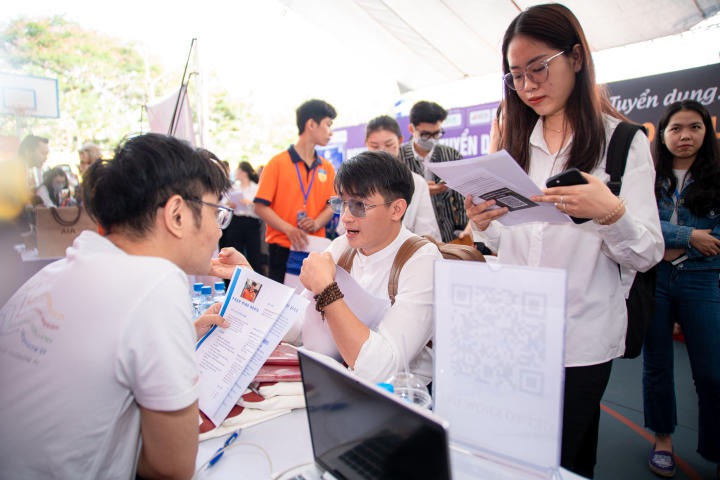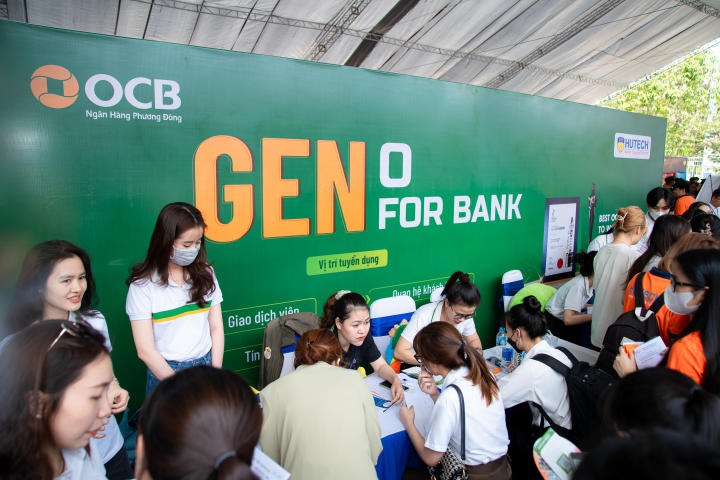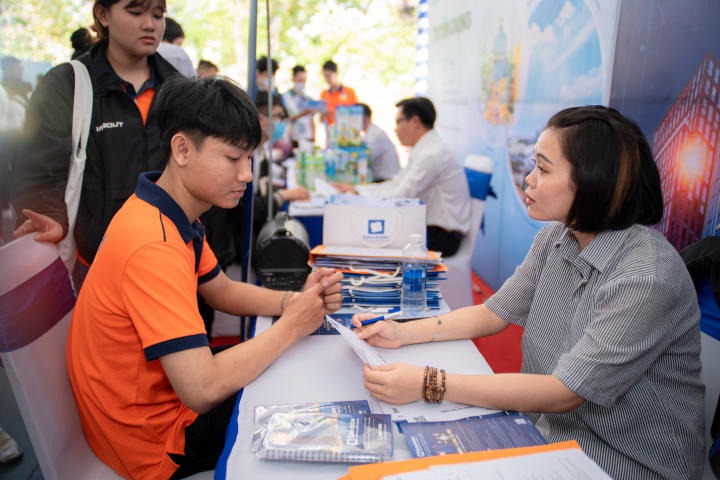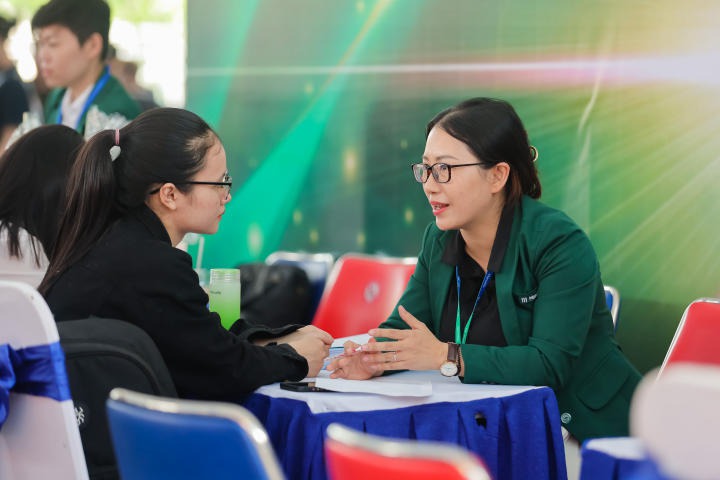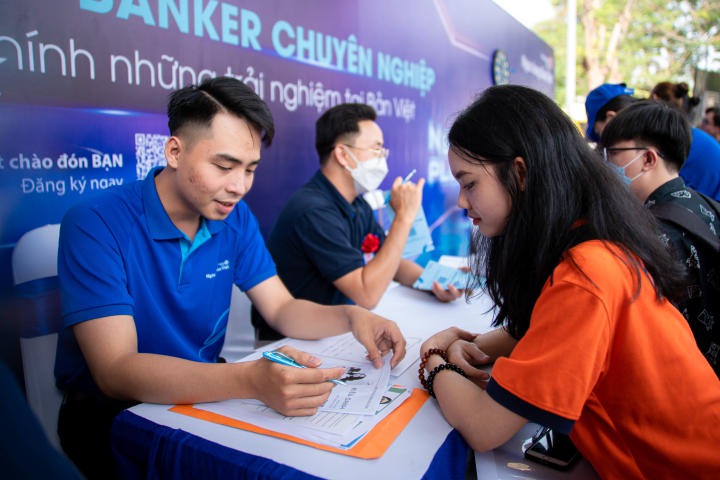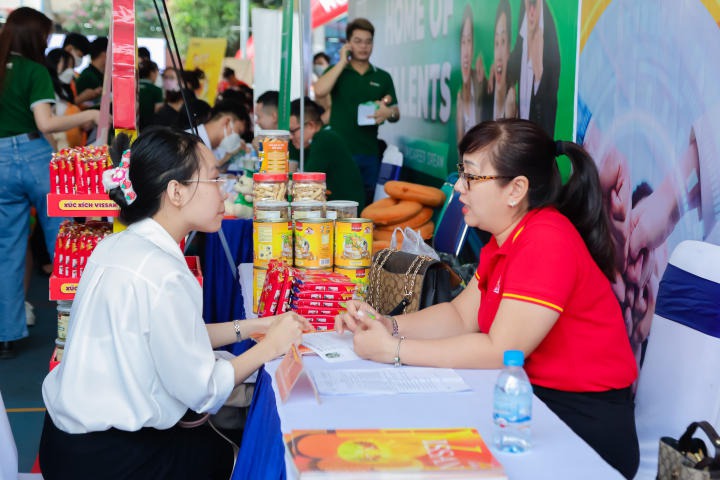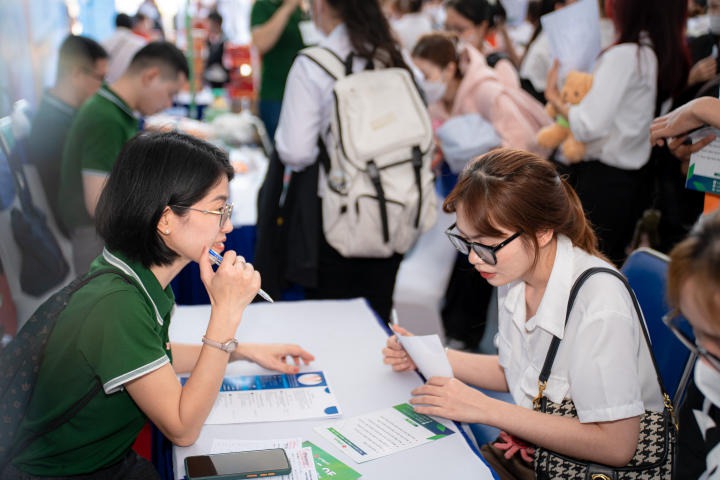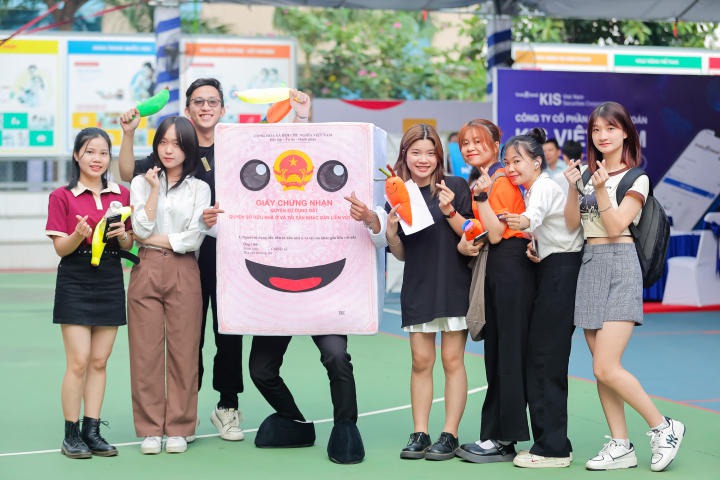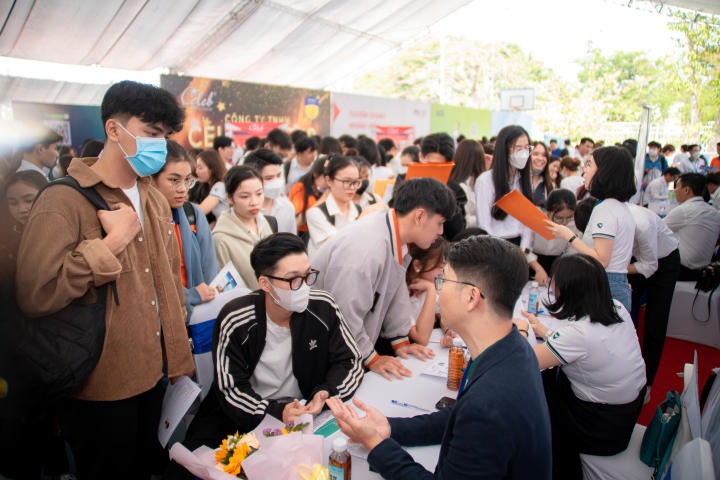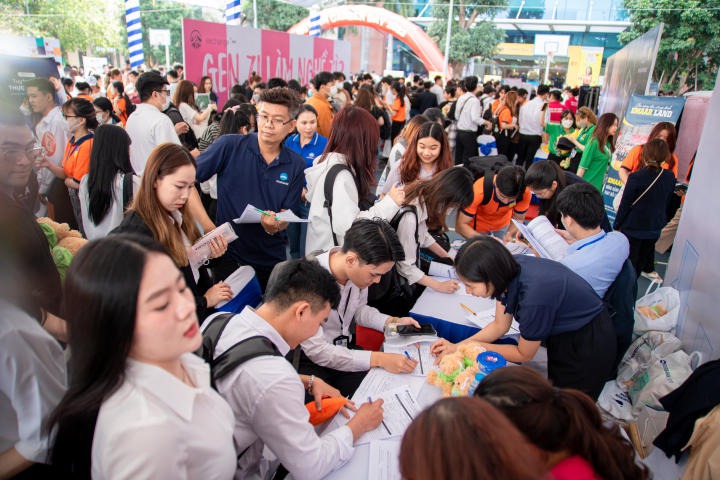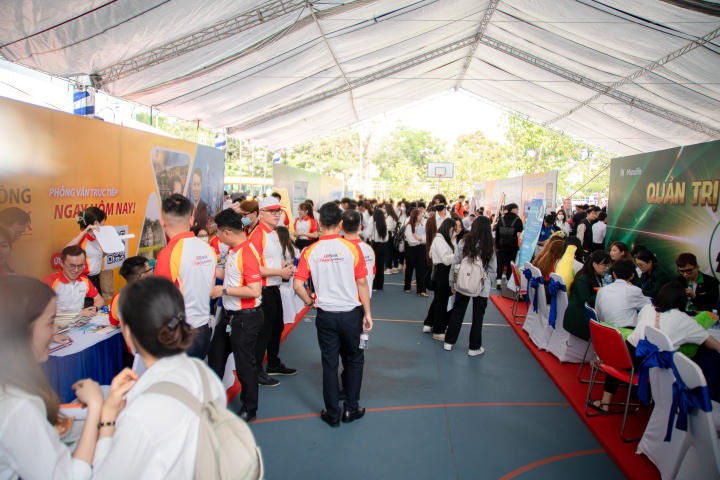 News: Mai Thy
Photos: Media
Office of External and Public Relations
Translators: Tường Vy - Aiza