On July 17, the Institute of Applied Sciences, Ho Chi Minh City University of Technology (HUTECH), held an online Food Product Development Fair.

The products introduced and exhibited at the Fair are also the final projects of the Food Product Development course of 23 student groups from the 2018 cohort of the Food Technology program.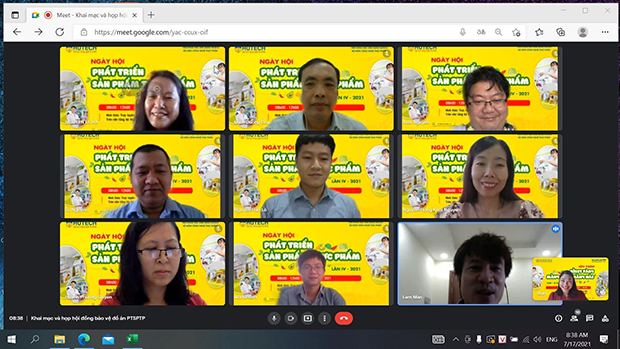 The Institute of Applied Sciences and many business representatives participate in the Food Product Development Fair
Representatives of Rudolf Group, Thabico Juice Co., Ltd., Tri Viet Phat Food Co., Ltd., Bluetech Ingredients Co., Ltd., CEFTworks Joint Stock Company, Saigon Coop, Asia Chemical Joint Stock Company were among the many businesses attending the online fair. From HUTECH, several leaders of the Institute of Applied Sciences along with many lecturers from the project review panel were also present at the program.

Mr. Nguyen Huu Thien (left) and Ms. Nguyen Thai Nguyen share valuable information and interact with HUTECH students

All 23 projects participating in the Fair have utilized familiar vegetables and fruits. The reviewers praised their originality as well as the flavors and nutrient contents of these products, such as dried mango, fermented chili sauce, red dragon fruit gummies with added fiber, candied watermelon rind.
Many creative projects made from familiar vegetables and fruits
Several nutrient-enhanced products received special attention from members of the review panel and businesses. Among these included collagen supplemented pennywort and coconut drink, saffron added soy milk, etc. and other eat-clean products such as soy-based vegetarian sausage, egg-free perilla noodles, and naturally fermented seasoning powder.
The "delicious" projects receive positive reviews from the members of the review panel and businesses
Dr. Nguyen Le Ha said, "Through the activity, students will gain practical experience to be ready to begin working in different positions at food companies after graduation."

After evaluating the products, the review panel praised the students for their professionalism showcased by the high quality and eye-catching presentation of their products. The judges also awarded the best projects in this exhibition.
Several high-quality products are displayed for the lecturers and students participating in the online fair

Hopefully, students can walk away from this experience with valuable knowledge and skills that enable them to be more confident in pursuing their dreams.

By Office of External and Public Relations