Accreditation is not only a mandatory requirement for Vietnamese educational institutions but also a social responsibility of the university. Therefore, on the morning of July 9th, 2018 Ho Chi Minh City University of Technology welcomed the official representatives and assessors of the Center for Education Accreditation - the University of Danang to conduct the external quality assessment at HUTECH.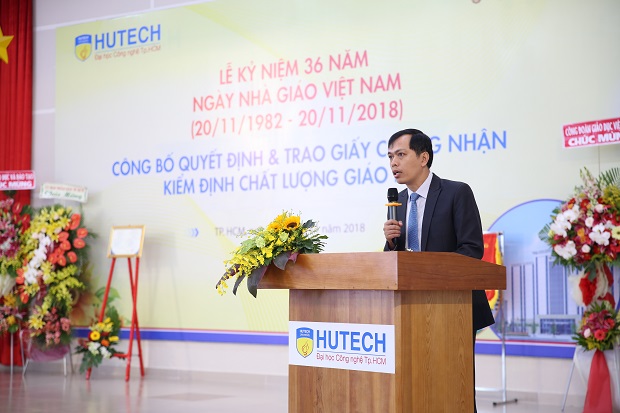 Assoc. Prof. Dr. Nguyen Quang Giao - Permanent Deputy Director of the Center for Education Accreditation gives his congratulatory speech to HUTECH
The set of education accreditation standards applied to the quality assessment at HUTECH was issued according to the Circular No. 12/2017/TT-BGDDT dated May 19, 2017 of the Ministry of Education and Training, including four areas (Strategic Quality Assurance, Systemic Quality Assurance of System, Functional Quality Assurance, and Outputs), 25 standards and 111 criteria (according to AUN-QA's set of standards). The set of standards ensures a high degree of scientific quality and is based on the principle of total quality management. These criteria have been verified through practical application at higher education institutions within the ASEAN university system. Furthermore, the set of standards is deemed suitable for the Vietnamese context and the international integration trend. HUTECH is proud to be the first university in the country to be accredited according to this new set of standards.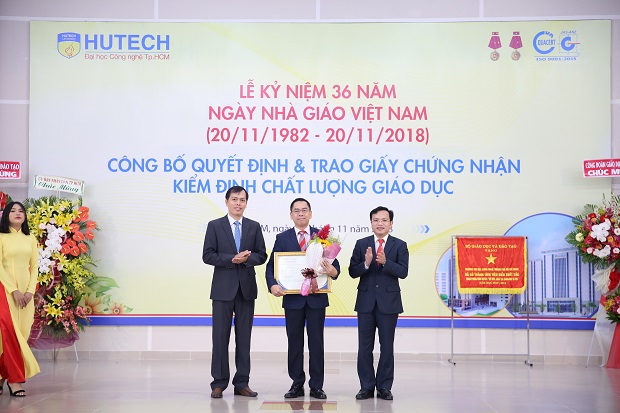 Prof. Dr. Ho Dac Loc - President of HUTECH receives the Certificate

On November 14, 2018, HUTECH was awarded the certificate of education accreditation issued by the Minister of Education and Training, according to Decision No. 132/QD-CEA.UD dated November 15, 2018.

The average score of the standards in each area:
Strategic quality assurance: 4.44/7

Systemic quality assurance: 4.53/7

Functional quality assurance: 4.49/7

Outputs: 4.54/7
With this achievement, HUTECH has ensured the maintenance and continuous improvement of academic excellence and training quality while assuring the interests of students and employers. Committed to enhancing the quality of academic programs and training, the university looks beyond quality assurance as simply a means to an end but a continuous and sustainable quality improvement process.

By Center for Quality Assurance