>> History and Mission

Faculty of English was established in 1995. The purpose is to conduct study on Graduate studies and Undergraduate studies (Full time, Second degree, and Top up). Graduate studies include English Language. Next, Undergraduate studies consist of three majors: English for Business, English for Translation, and Methodology.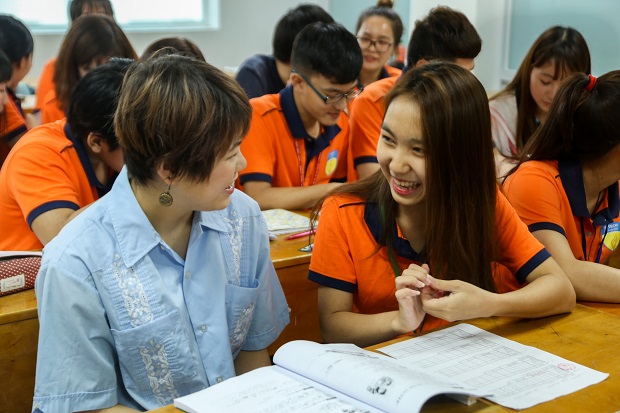 The faculty has many solid experts, experienced and trained lecturers from domestic and international universities. In addition, the faculty usually cooperates with professors, associate professors, masters from other universities in HCMC and many foreign lecturers.
Undergraduate studies: In case, you have great passion in working at consular offices or being a representative in Vietnam's foreign trade, international trading companies or agencies is your pursuit. The study also helps you to make dreams of being a reporter, editor, journalism, translator or freelancer come true.
Graduate studies: HUTECH is one of the first highly trusted universities in training English Language. It opens up a huge opportunity for students who are interested in pursuing to become master of English Language.
The Master in English Language major: in HUTECH provides students with intensive English knowledge and ability to organize, manage, and work professionally. Therefore, they can undertake the role of a manager, leadership, expert, translator at foreign and international relations in enterprises, institutions, media agencies, economic institutions, culture or society. Importantly, they may also manage training programs at educational institutes.
>> Facilities
Students will study in a dynamic environment, modern facilities among universities and colleges. By following the international standard, classrooms and learning equipments such as computers, projectors, and 1500m2 library with computers connected to the internet, are fully equipped. Also, learning materials are updated from the United States, England, Australia, Japan, electronic learning system-data linked with many domestic and international universities and students. The campus will be covered by Wi-Fi entirely for students to access the internet anytime and anywhere.

In addition to the regular curriculum, students are also involved in many activities from English club and translation club to develop comprehensive skills.

Dean
Nguyen Thi Kieu Thu, Ph.D.
Email: ntk.thu@hutech.edu.vn
Tel: (+84)28-5445-4754
Vice Dean
Le Van Tuyen, Ph.D.
Email: lv.tuyen@hutech.edu.vn
Tel: (+84)28-5445-4754

Vice Dean
Pham Quynh Trang, M.A.
Email: pq.trang@hutech.edu.vn
Tel: (+84)28-5445-4754
Contact Information
Address: 475A Dien Bien Phu Street, Ward 25, Binh Thanh District, Ho Chi Minh City
Tel: (+84)28-5445-4754 - Email: khoa.nn@hutech.edu.vn