On September 22nd, 2023, Ho Chi Minh City University of Technology (HUTECH) awarded an honorary doctorate to Mr. Yoichiro Aoyagi, member of Japan's House of Representatives for his significant contributions to the university's educational endeavors in general, and the Vietnam-Japan Undergraduate Program in particular.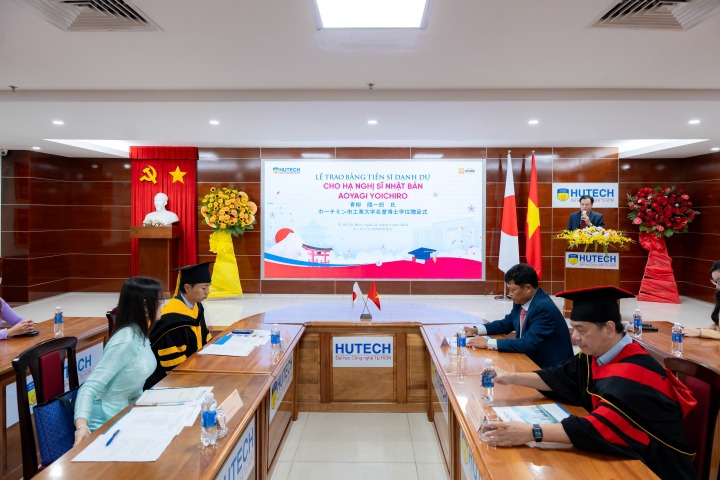 Mr. Aoyagi Yoichiro, member of Japan's House of Representatives, Ms. Miyashita Kaori, secretary of Aoyagi's Office, and Mr. Makoto Oishi, Deputy General Director of Happyclean Japan Joint Stock Company, attended the Ceremony.
Attending the ceremony included Dr. Kieu Xuan Hung - Chairman of the HUTECH Board of Trustees, Assoc. Prof. Dr. Bui Xuan Lam - Vice Chairman of the HUTECH Board of Trustees, Prof. Dr. Sc. Ho Dac Loc - HUTECH President, Dr. Bui Van The Vinh - HUTECH Vice President, Dr. Huynh Ngoc Anh - HUTECH Vice President, and other leaders of HUTECH University.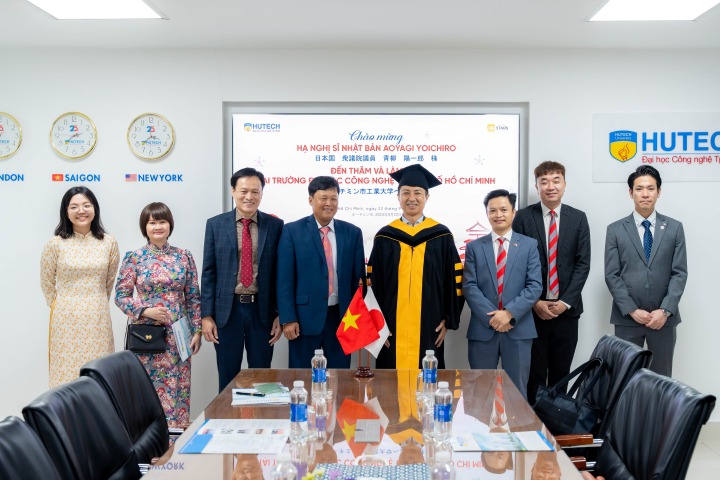 On behalf of HUTECH, Assoc. Prof. Dr. Bui Xuan Lam expressed his congratulations to Mr. Aoyagi Yoichiro: "This honorary doctorate is awarded to Mr. Aoyagi Yoichiro, member of Japan's House of Representatives as our recognition and thanks for his contributions to Vietnam's education and HUTECH's education in particular. We hope HUTECH will continue to receive your support on our journey of educating students who will contribute to the development of a comprehensive strategic partnership between Vietnam and Japan, and who will have the ambition to build the world-class economy of Vietnam".
Mr. Aoyagi has been the founder and senior advisor to HUTECH's Vietnam-Japan Institute of Technology (VJIT) since 2014. As a member of the board of directors of Human Resources Development & Employment Organization that exchanges foreign personnel with talented personnel in Vietnam, Mr. Aoyagi works with Vietnamese Embassy in Japan and other organizations, individuals, and businesses to organize many seminars, job fairs, internship programs, and cultural exchange programs to HUTECH students.

Mr. Aoyagi is also a bridge for HUTECH to establish the Vietnam - Japan Undergraduate Program, enabling VJIT students to have more opportunities to access advanced Japanese educational programs and promoting HUTECH's reputation in the Vietnamese and international education system.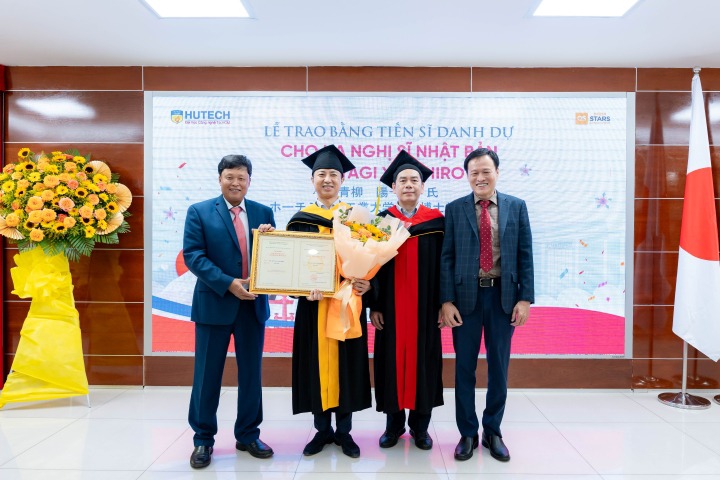 Following the Ceremony, Mr. Aoyagi chaired the seminar entitled "Job Overview in Japan - Opportunities and Challenges" to HUTECH students. He analyzed the current economic and labor market difficulties in Japan and suggested solutions to improve the situation. He believed that innovation is necessary for the development of society and continuous research in all disciplines is needed to create more innovations and remarkable changes, which helps improve the quality of human life.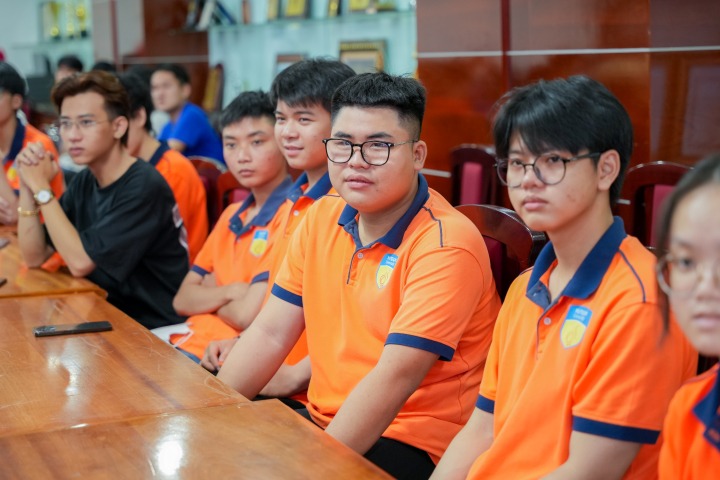 Concluding the seminar, Mr. Aoyagi gave a message to HUTECH students: "The role of the instructor is not only to teach, but also to lead learners to apply what they have learned into practice to solve problems. At the same time, passion and enthusiasm are significant factors in addition to professional skills. I hope that what I share today will accompany you and help you more in the future".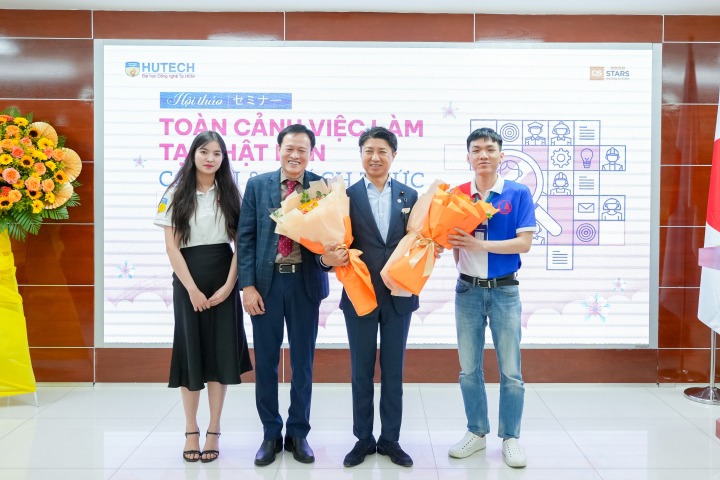 The seminar gave HUTECH students multidimensional perspectives on the Japanese labor market, providing them with updated knowledge to best prepare for international integration and ready to explore international employment opportunities.

News: Vy Nuong
Photos: Thanh Phu
TT: Communication Center