On the morning of September 30, Vietnam-Japan Institute of Technology (VJIT) of Ho Chi Minh City University of Technology HCMC (HUTECH) proudly organized the 2023-2024 school year commencement ceremony with the special presence of Mr. Ono Masuo - Consul General of Japan in Ho Chi Minh City.
Along with Mr. Ono Masuo, HUTECH solemnly welcomed Mr. Doi Katsuma - Director of Japan Cultural Exchange Center, Mr. Matsumoto Nobuyuki - Chief Representative of Japan Trade Promotion Organization (JETRO) in Ho Chi Minh City. Mr. Ueda Masaya - General Secretary of JCCH and leaders of Japanese businesses. Furthermore, Dr. Vo Van Thanh Than - Head of the Faculty of International Languages & Cultures, University of Economics and Finance (UEF) came to HUTECH for this special occasion.
The presence of esteemed guests, business representatives and VJIT partners at the ceremony
HUTECH representatives Dr.. Kieu Tuan - Permanent member of the University Council; Assoc. Prof. Bui Xuan Lam - Vice Chairman of the of the University Council; Dr. Bui Van The Vinh - Vice President; Dr. Le Dinh Luong - Head of University Office; Dr. Nguyen Xuan Hung - Deputy Director of VJIT and leaders of departments and faculties  were also attending the commencement ceremony in high spirit.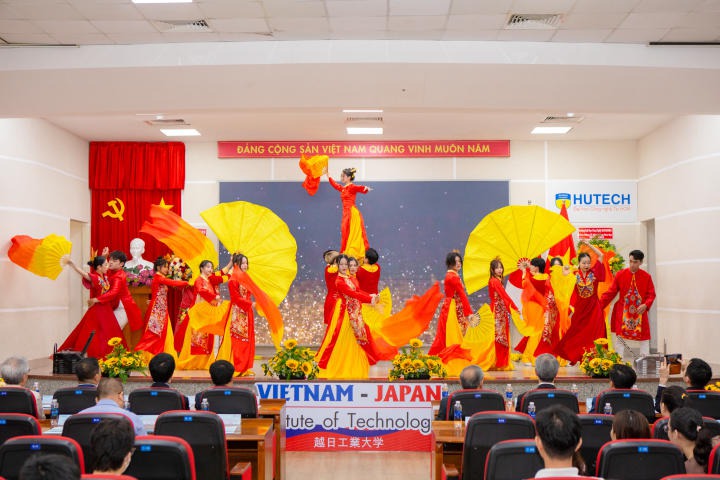 Many unique and attractive musical performances bearing the imprint of Vietnam - Japan were performed 
In his opening remarks, Assoc. Prof. Bui Xuan Lam thanked the Consul General of Japan and representatives of businesses for attending the opening ceremony to welcome the new school year of VJIT. He was also happy to welcome 567 new students of the 9th VJIT class and reminded them: "I wish you steady progress and confidence to conquer your dreams. I am certain that all your efforts will be rewarded in the future. Hopefully, in the coming years, the teachers and distinguished guests present here today will meet all of you again to award valuable diplomas when you have really matured, with full capacity, knowledge and qualities to enter the job market".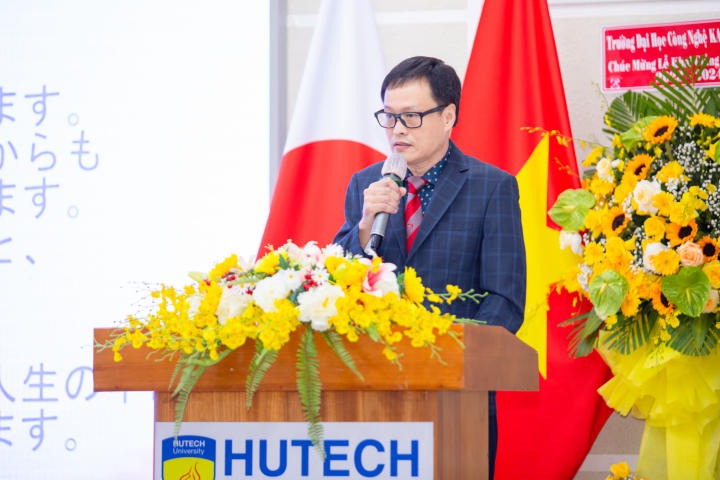 Assoc. Prof. Bui Xuan Lam hopes that students study well in the new school year
Joining in the jubilant atmosphere of the opening day, Mr. Ono Masuo shared: "
When I visited VJIT before, I had the opportunity to meet excellent students with professional knowledge and good language skills. VJIT has an excellent track record of training human resources who will contribute to promoting the relationship between Japan and Vietnam.
" He also expressed his expectations for the new students:
"From today, you will start a new life, I urge you not only to study hard every day but to have fun experiencing a memorable student time. In the coming years, I hope you will not only study but also make efforts to learn more deeply about Japan.
"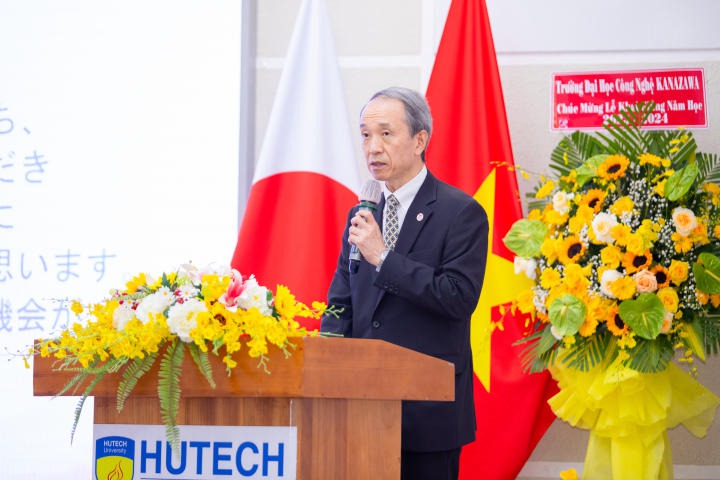 Mr. Ono Masuo expects new VJIT students to have many memorable experiences at the university
GS. Satoshi Osawa - Rector of Kanazawa University of Technology (KIT, Japan) - a partner of VJIT also congratulated the new students for officially entering the university and hoped for further exchanges and meetings between students of the two universities: "I hope that in the near future,  VJIT students and KIT students are studying the same subject, designing the same project, and working together to develop strong global ideas".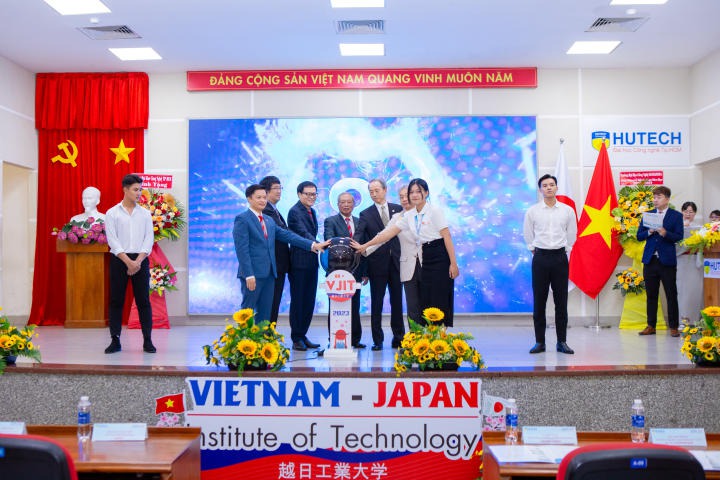 HUTECH leaders, VJIT leaders and Japanese guests performed the ceremony for the new school year to officially begin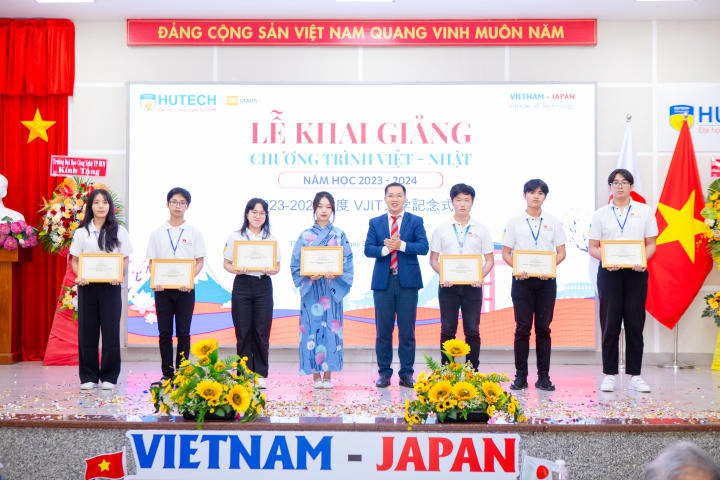 07 students with high achievements in admission to receive awards at the ceremony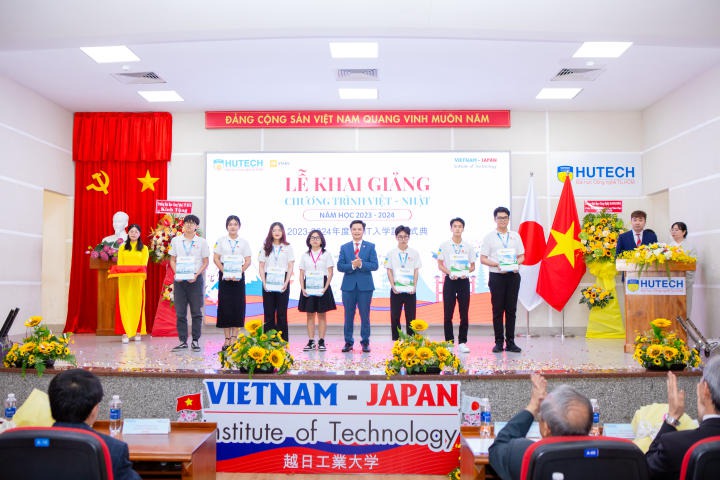 The class staff of the new school year in front of all lecturers and students
During the ceremony, 07 students of the class of 2023 with high achievements in admission to the Vietnam-Japan Joint Education Program have been awarded awards to encourage their learning spirit. The 2023 class staff of VJIT has also been presented in front of all teachers as well as fellow students.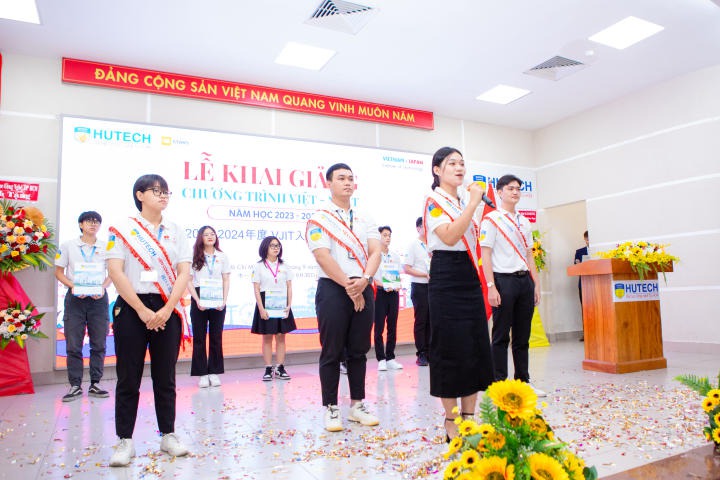 Mr. Nguyen Hoai Khanh Linh, on behalf of the new students, took an oath of determination to try to study and strive in the new school year
Mr. Nguyen Hoai Khanh Linh - a new student in Digital Multimedia representing 567 new VJIT students, received honorary belts from students of the class of 2020, 2021 and 2022 and took an oath of determination in front of all teachers, promising an energetic academic year and many achievements ahead. This is a ritual maintained through generations of the Institute, in order to inspire new students to have more faith and energy to continue the learning tradition of their predecessors.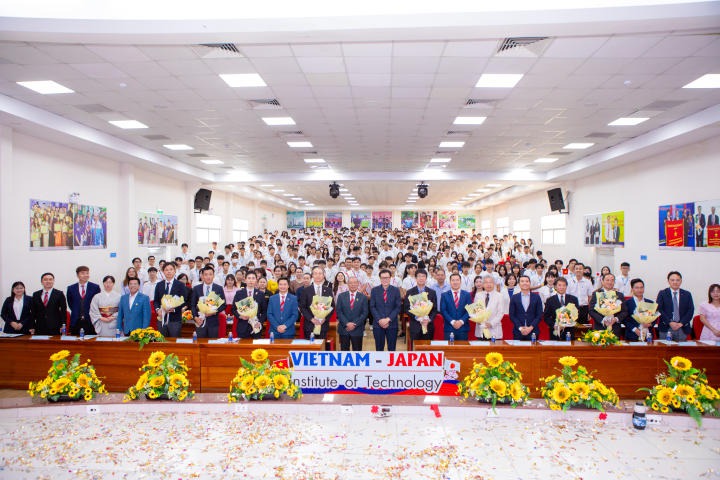 After the commencement ceremony, the students officially embarked on a new journey and journey with many expectations and ambitions
A new school year with many expectations has officially begun, we wish all VJIT teachers and students an exciting and successful school year!
News: Minh Châu
Images: Tuấn Minh, Communication Center 
Translator: Lewis, Tung Lam